Venice Airport Buses (2016)
Page 2
Continued from page 1
By Durant Imboden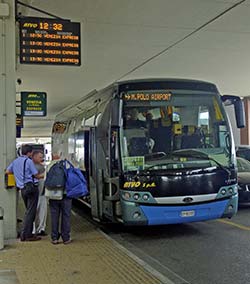 ABOVE: An ATVO bus at Venice's Marco Polo Airport.
ATVO "Venezia Express" bus to Piazzale Roma

The ATVO coach from
Marco Polo Airport to Venice Piazzale Roma
costs €8,00 each way, or €15,00 for a round trip. It's by far your most convenient option if you're able to climb a few steps when boarding, since the coach has a luggage compartment underneath where you can stow your bags.

The ATVO stops are located on a strip of sidewalk between two vehicle lanes outside the arrivals and baggage-claim area, near doors C and D. (Caution: ATVO also runs buses to Mestre, Aviano, and other locations, so look for the "Venezia Piazzale Roma" or "Venice Express" sign before boarding.)

Buy your ticket at the ATVO/ACTV counter in the arrivals hall, from the ticket machines in the baggage-claim area, or from a ticket machine in the bus departure area.
You can also order online from the ATVO's Web site, with a discount for your advance purchase. When ordering online, you'll receive an electronic code by e-mail. Take the e-mail with the code to the ATVO window in the airport to receive your tickets.
Travel time to the Piazzale Roma is 20 minutes. For more information, including timetables in PDF format and online ticket purchasing, see the ATVO Web site's Venice Airport pages.
Important:
To take the bus from Venice to the airport, buy a ticket at the ATVO storefront facing the Piazzale Roma and take the red-and-white crosswalk to the center of the square, where you'll see signs for ATVO coaches to the Venice and Treviso airports. (A ticket machine is outside the office, on the sidewalk.) Alternatively, you can buy tickets at the newsstand near the buses, which is open every day except Sunday.
Board the bus for

Marco Polo Airport unless you're flying on Ryanair, Transvia, Wizzair, Germanwings, or Air Arabia, which depart from Treviso's Canova Airport. (See our Treviso Airport buses article if you're using one of those budget airlines.)
Be sure to validate your ticket before or immediately after boarding the ATVO coach. At the airport, you'll find a stamping machine next to the bus stop; at the Piazzale Roma, stamp your ticket in the machine behind the driver's seat unless the driver takes your ticket and punches it for you outside the bus.

ATVO buses are generally reliable, but it pays to have a backup plan--and money for a taxi--if the bus doesn't show up. (Not long ago, our daughter and grandson had a 7 a.m. flight from Marco Polo Airport, and the 5 a.m. bus from the Piazzale Roma failed to arrive. Fortunately, there were a couple of taxis waiting in the Piazzale Roma at that hour, so they managed to make their flight.)
---
---
---