---
Venice Carnival Masks
Also see: Venice Carnival
By Durant Imboden
Carnival masks are the hallmark of il Carnevale di Venezia. Venice's Carnival began in the 11th Century, and the wearing of masks and costumes was well established by 1436, when maskmakers or mascareri were officially recognized with their own guild.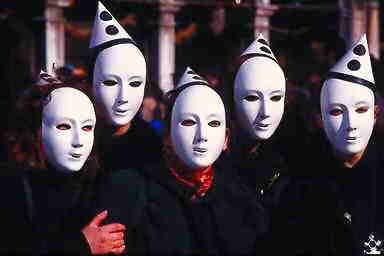 The practice of wearing masks for disguise reached its zenith in the 18th Century, when Venetians of different social classes used Carnival as an excuse to mingle and, in some cases, to trade sexual favors without fear of recognition or retribution. (With a mask, a silk hood, a tabarro cape and a tricorn hat, a housewife in search of hanky-panky was indistinguishable from a nobleman on the prowl.)
Masks virtually disappeared--along with Carnevale--when Napoleon's troops brought an end to the Venetian Republic in 1797. However, they've staged a spectacular comeback since a group of former Academy of Fine Arts students opened Venice's first modern mask shop in 1978.
Venice Carnival masks fall into several categories:
Commedia dell'Arte masks are based on traditional characters like Harlequin and Pierrot.

Fantasy masks are figments of the maskmaker's imagination, although they may be inspired by historical designs.

Traditional Venetian masks such as the white volto half-mask with nose cover and its variant, the "plague doctor's" mask with its phallic beak. (According to tradition, the beak was intended to protect the wearer from being infected by the plague.)
Next page: Where to buy Carnival masks in Venice
---
---
---
---