Hurtigruten
Page 6
Continued from page 5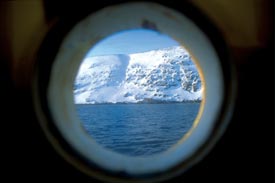 ABOVE: A porthole view of Norwegian coastal scenery.
Web links
Hurtigruten
The Norwegian site of "the world's most beautiful voyage" has links to national sites in the United Kingdom, France, Germany, Sweden, and the USA.
Your Favorite Cruise: MS Richard With
Lloyd Mildon describes "the trip of a lifetime" aboard a Hurtigruten New Ship.
Bergen Guide: Hurtigruten - The Coastal Express
This page includes a history of Hurtigruten.
Back to page 1
---
---