AirBac
Air-Cushioned Backpacks - Archived Product Review
---
---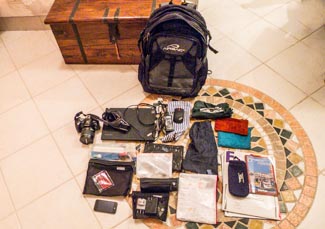 ABOVE: An AirBac AirTech backpack with an array of items that were carried in it during a recent European trip and cruise. INSET BELOW: Two product views of the AirBac AirTech.
by Durant Imboden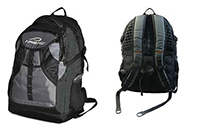 Like many travelers, I use a backpack as a carry-on bag. Wearing a backpack is more convenient than lugging a heavy camera or computer bag, and after an experience with a shoulder bag that compressed my carotid artery and sent me to the hospital for 18 days in 2005, I'm convinced that it's far safer.
Until recently, my standard backpack was a JanSport book and laptop bag that I bought many years ago. It worked well as a repository for travel gear, but it wasn't especially comfortable. So I couldn't help being intrigued when I received an e-mail a few months ago that began:
"In 2005, AirBac was just an idea. After observing school kids dragging their heavy backpacks, an inventor went to work in his garage and created the lift back. The very first bag was a modified book bag with a blood pressure device stitched into the back and when pumped with air, began to lift upright.
"After undergoing many revisions and entering mass production, the AirBac came to be. AirBac initially found success through parent/teacher associations, social events and a grass roots campaign. Chiropractors then saw the benefits of such a bag and began to sell it out of their catalogues. Now AirBac is no longer just a school bag; it holds the laptops for business execs, camera equipment for photographers, and supplies for hikers but most of all, it takes the weight off your shoulders and spine."
The idea of an air-cushioned backpack sounded clever--and unique. Would the product's execution live up to the innovative concept? I decided to satisfy my curiosity, and AirBac sent me a backpack for field-testing. (I chose the AirTech model. This roomy backpack has a laptop pocket, comes in a variety of colors, and retails for US $89.99, which puts it right in the middle of the AirBac price range.)
The first thing I noticed about the AirBac was the large, netting-covered air bladder in the lower lumbar area. When I loaded up the backpack and slipped my arms through the heavily-padded shoulder straps, I felt the air bladder resting gently against my spine, distributing the weight of the pack's contents across my lower back. The AirBac felt much more comfortable than my traditional backpack--not merely because of the better weight distribution, but also because the air bladder insulated me from hard or lumpy objects inside the bag.
Design and quality
I was leery of learning to use a new backpack, since I already had a system of packing that worked well, but the AirTech's layout and features quickly reassured me: The design was almost perfect for my needs, with plenty of room inside and a good assortment of pockets (including pockets within pockets, in some cases). See the captioned product photos below for more details.
Just as important, the AirBac's product quality was excellent, and it was obvious that the backpack's designers hadn't skimped on what car manufacturers like to call "fit and finish." The AirBac looked and felt like a high-end product, with quality fabrics and subtle engineering details.
Field-testing the AirBac AirTech
For me, the real test of a suitcase or backpack is how it performs in the field. I loaded up the AirBac AirTech with two cameras, a notebook computer, an iPod Touch, assorted chargers and electrical adapters, notebooks, alarm clocks, a flashlight, reading material, emergency chocolate bars, medicines, and other gear.
I carried the AirBac in three airports, on airplanes and water buses, through the streets of Venice, and aboard the hotel barge La Bella Vita. The AirTech was comfortable to wear (even when fully loaded, in warm weather), and its well-designed compartments made travel items easier to find than in my previous backpack.
Verdict: Once you try AirBac, you'll never go back.
---
Please note: This article is an editorial review, and we received no payment for publishing it. (We don't accept "advertorial" or "sponsored posts.")
---
These product photos were supplied by AirBac. They show details of the AirBac AirTech model that I field-tested:
---
LEFT: In this photo of the AirBac AirTech, you can see the air bladder (lower half) that lies against the user's back to provide support and cushioning. Foam pads on both side of the backpack's upper portion supply additional cushioning for the shoulder blades.

The round object on the air bladder is an inflation port. If you ever need to add air, just use the same kind of hand pump and inflation needle that you'd use to inflate a basketball or football.
---
| | |
| --- | --- |
| | LEFT: This front view shows the shallow but deep outer pocket (beneath flap) two small outside pockets with curved zippers for miscellaneous items such as pocket flashlights or business cards, large and small carrying handles, and elasticized side pockets for water bottles or beverage cans. |
---
LEFT: The AirBac AirTech has two large interior compartments with zipper closures. At far left is a padded compartment for a laptop computer (I also used mine for papers).

The larger opening is for the roomy main compartment, which has an interior nylon pocket and enough space for cameras, chargers, books, and other gear.

To the right of the main carrying handle is a third zippered compartment (closed in this view) with two internal pockets: An open nylon pocket and a zippered netting pocket that's ideal for small objects that you want to keep secure but accessible.