Europe > Portugal > Algarve > Lagos
Lagos, Portugal
From: Algarve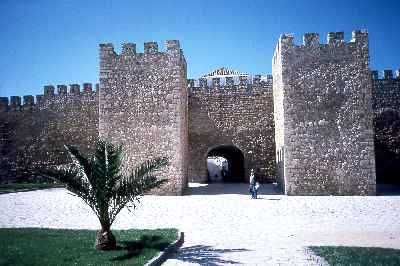 ABOVE: The restored town walls of Lagos, near the waterfront.
The resort town of Lagos, in the western Algarve, is popular with visitors for several reasons:
It has a population of 22,000, making it large enough to seem unconfining yet small enough to feel like a resort.
It offers accommodations in all price categories, from campgrounds and private rooms to resort hotels and rental villas.
It has a variety of beaches, ranging from the long, broad

Meia Praia

on the eastern edge of town to the secluded coves beneath the towering cliffs of the

Ponta da Piedade

.
It has a varied nightlife with rock bars, a jazz club, fado restaurants, classical concerts, and other activities for the full spectrum of tastes and age groups.
Perhaps just as important, Lagos makes an excellent base for excursions to other town and attractions in the Barlevento, including:
Portimão. The Algarve's sardine-canning center has a lively waterfront where you can watch the boats come and go. You can also shop, visit the local Gypsy market, or check out the excellent beach at nearby Praia da Rocha. Or you can take a half-day riverboat excursion to:

Silves. This inland town was the Moorish capital of the Algarve. Its main attraction is a vast Arab fortress with orange groves inside its walls. The town also has a 13th-Century church (once a cathedral) which survived the 1755 earthquake that leveled most historic buildings in the Algarve.

Monchique. As you drive inland toward the mountains from Silves, you'll reach this small town that was a fashionable resort in Edwardian times. The forested setting is pretty, and the fresh mountain air is invigorating on summer days. From Monchique, continue 8 km (5 miles) inland to the summit of Mt. Fóia, which offers a sweeping view of the coast and the Sagres Peninsula (see below)..

Sagres Peninsula. In the 1400s, Prince Henry founded a school of navigation on the Sagres headland, at the southwestern tip of Europe. This became the training ground for Portuguese mariners who pioneered new trade routes, explored distant lands, and helped Portugal become a major colonial power. You can tour the remnants of Prince Henry's fortress and visit the lighthouse at nearby Cabo de São Vicente, where ships still pass on their way to Africa.
Where to stay:
Booking.com: Lagos our partner
Europe's leading secure reservations service represents Lagos hotels, B&Bs, and vacation properties in all price ranges. Listings include pictures, ratings, and reviews by paying guests.
Back to: Algarve
---
---