Algarve
Tourist Information and Travel Guide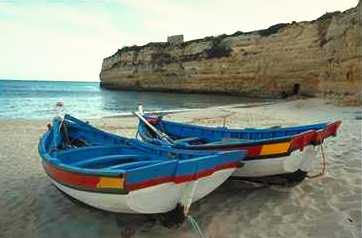 By Durant Imboden
Algarve is a name derived from the Arab phrase al-gharb, meaning the "land beyond" that the Moors gave to this sunny region of Portugal after conquering the Iberian Peninsula in 711. The name could just as easily mean "vacation paradise," because the Algarve has drawn millions of foreign visitors--most notably the British--to its beaches and villages since the developers moved in during the 1960s.
Despite the invasion of package tourists and retirees, much of the Algarve is relatively unspoiled. The region certainly isn't undiscovered territory, but it isn't Torremolinos, either.
When to visit
The Algarve is at its most pleasant during spring and fall, when resorts are uncrowded but the waters of the Atlantic are warm enough for swimming. Winter can also be pleasant, with average daily January highs of 59° F (15° C). Water temperatures tend to be cooler in the west and warmer in the east, with an average thermometer reading of 57° F (14° C) in January and 70° F (21° C) in July.
Where to go
The Algarve has three main tourist regions:
Barlevento (windward coast): This rocky and dramatic stretch of coast curves southwest from the fishing town of Portimão, with its 1930s-style Praia da Rocha beach resort, to the deserted cliffs of Sagres (where Portuguese explorers set sail in the 1400s). The most popular resort town is Lagos, which is described on a separate page of this article.
BELOW: A beach near the Ponta da Piedade on the western edge of Lagos.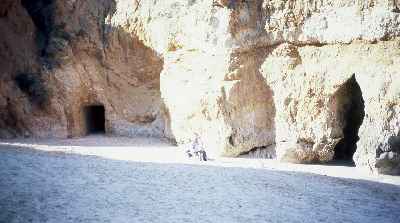 Central coast: Albufeira is the most famous spot in this area of beach resorts, golf courses, and other tourist developments. The town is a favorite of package tourists from Britain, France, and Germany who come for sunshine and nightlife. Faro, the modern capital of the Algarve, is primarily an airline gateway and regional business center. A newer and more upscale private development, Vilamoura, is geared toward the condo crowd.
Sotavento (leeward coast): Heading east from Faro, you'll encounter salt marshes, sand dunes, quiet beaches, the wildlife-rich offshore islands of the Parque Natural da Ria Formosa, and the quaint town of Tavira. This is a good area to visit if you're trying to avoid crowds during the high season. Ferries from Olhäo serve the offshore ilhas of Armona and Culatra, which are noted for their superb (and, in some places, deserted) beaches.
How to reach the Algarve

ABOVE: A sunflower field in the Alentejo. You'll see scenery like this if you follow the recommended driving itinerary below.
By air
Faro International Airport has scheduled air service from Lisbon and London. TAP Air Portugal and other international airlines serve Faro either directly or via connecting flights in Lisbon. The airport is located 7 km (4 miles) from the city center.
By train
The Algarve has excellent train service from Lisbon. From the Terreiro do Paço station on Lisbon's waterfront, you catch a ferry across the Tagus River and board a waiting train at the station on the opposite bank. Two to three intercity trains a day connect Lisbon to Faro; an interregional train offers service to Lagos via Tunes.
Other trains connect Lagos to the Spanish border town of Vila Real de Santo António with various stops along the way. For more information, see the bilingual Caminhos de Ferro Portugueses (Portuguese Railways) Web site.
By bus
Several companies offer scheduled service from Lisbon to Faro and other cities in the Algarve. Portuguese travel agencies can book tickets for you.
By car
You can drive from Lisbon to Faro in about five hours. However, we'd like to suggest a different itinerary that will require up to three days, depending on where and how often you stop for the night.
Lisbon to Marvão. Head northeast toward the spa town of Castelo de Vide, with its ancient Jewish quarter, then continue to Marvão near the Spanish border. This ancient fortified hilltop town has only 1,000 inhabitants, but it was once an important military stronghold. The comfortable Pousada de Santa Maria offers fairly expensive rooms; other inns are cheaper, and you can arrange for private accommodations through the tourist office.
Marvão to Évora. It may take you the better part of a day to reach Évora if you stop at Estremoz, as you should. Évora is the capital of the Alentejo, and it's a delightful provincial town with Moorish walls, a handsome cathedral, the Roman temple of Diana, and other attractions. The Pousada dos Lóios offers attractive if expensive rooms in a former convent. If you're on a budget, see the tourist office or a guidebook for a list of more reasonable hotels.
Évora to Faro. Zigzag south to Beja, then jog over to Ferreira do Alentejo and drive south to Faro, where you'll head east or west to your final destination.
Algarve Vacation activities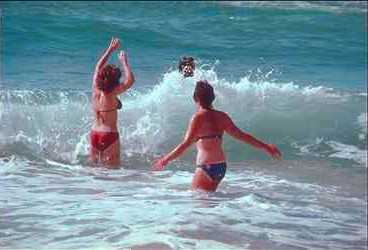 Sunbathing and swimming are the leading sports activities in the Algarve. And with toplessness now being tolerated in Portugal (unlike the situation in my youth, when my father was required to wear a shirt on Estoril's beach), seaside activities have become a spectator sport as well. Other ocean-related sports include sailing, deep-sea fishing, scuba diving, snorkeling, and water skiing.
Golf is popular, although club members (including the Algarve's many British retirees) generally get first dibs on tee times. Tennis is also available at tennis clubs and the better resort hotels, and a dozen or more riding stables rent horses to visiting cowboys and equestriennes.
Food in the Algarve
Fish is a staple of Portuguese cuisine, and it's nearly always fresh (except for salt cod or bacalhau, which is cooked in innumerable ways and is worth trying at least once). Grilled sardines are popular--for snacking, not just for meals--and they're larger and tastier than their canned minnow-sized relatives.
In the Algarve, two specialties include grilled tuna (or "tunny," if you prefer) and shellfish cooked in a copper cataplana with herbs and pork.
The Algarve also has many foreign restaurants, so you can easily find a hamburger or British-style fish and chips if your taste buds get homesick.
Finally, Portugal is a mecca for anyone with a sweet tooth. Look for a dense and eggy orange cake, the traditional Algarve almond cake, or ovos de fio ("thread eggs" or "string eggs,") a concoction made with sugar and egg yolks that can be used as a cake garnish or pastry filling.
Note: The Portuguese generally eat fairly late by U.S. and Northern European standards--usually around 1 p.m. for lunch and 8 p.m. or later for dinner, although restaurants usually open by 7 p.m. in tourist areas.
Drinks
The leading red wine is Dão; others, such as Colares and Buçaco (my sentimental favorite) are also good. In general, you can trust the house tinto (red) or branco (white).
Vinho verde, or "green wine," comes in white, rosé, and red varieties, of which the white is the best and most popular. It's low in alcohol and has a slight effervescence, making it pleasantly tingly on the tongue and refreshing on hot days.
Port, a wine from the Douro region of Northern Portugal, shouldn't be missed. Order a dry porto branco (white port, served chilled) in a sidewalk café or as an aperitif before dinner. After your evening meal, have a glass of sweet, dark tawny or vintage port, which bears little if any resemblance to the American domestic ports that are typically served from bottles hidden in paper bags.
Beer is readily available. Sagres is a good brand with a local name, but you can also find imported British beer in many pubs if you're willing to pay the price.
Soft drinks and mineral waters are also in generous supply, although my favorite non-alcoholic Portuguese drink is coffee. Ask for uma bica (espresso) um café duplo (double-sized espresso), or um café com leite if your tastes run more to latté than straight Brazilian black.
Related Web links
Climate
Algarve: Annual Weather Averages
Plan the timing of your trip (or your wardrobe) with help from Holidayweather.com.
Expat life
Moving to Portugal Made Simple
James Cave's 336-page handbook is essential reading for anyone who dreams of living in Portugal.
Hotels and apartments
Booking.com: Algarve our partner
Europe's no. 1 booking service offers competitive rates with secure reservations at hotels, B&Bs, and vacation properties throughout the Algarve. The illustrated hotel pages include pictures, ratings, and reviews by paying guests.
Featured B&B
Tavira Inn - Casa do Rio our partner (Booking.com)
Sebastian Bastos has turned his villa into a bed-and-breakfast with five air-conditioned guest rooms (each with private bath), a bar, and a salt-water pool. The Casa do Rio is located in the Eastern Algarve town of Tavira, near the Spanish border.
Next page: Featured City: Lagos
---
---