Algarve
Tourist Information and Travel Guide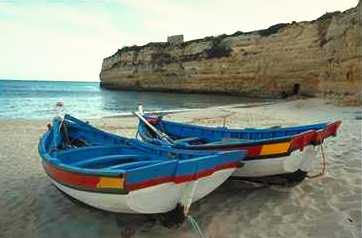 By Durant Imboden
Algarve is a name derived from the Arab phrase al-gharb, meaning the "land beyond" that the Moors gave to this sunny region of Portugal after conquering the Iberian Peninsula in 711. The name could just as easily mean "vacation paradise," because the Algarve has drawn millions of foreign visitors--most notably the British--to its beaches and villages since the developers moved in during the 1960s.
Despite the invasion of package tourists and retirees, much of the Algarve is relatively unspoiled. The region certainly isn't undiscovered territory, but it isn't Torremolinos, either.
When to visit
The Algarve is at its most pleasant during spring and fall, when resorts are uncrowded but the waters of the Atlantic are warm enough for swimming. Winter can also be pleasant, with average daily January highs of 59° F (15° C). Water temperatures tend to be cooler in the west and warmer in the east, with an average thermometer reading of 57° F (14° C) in January and 70° F (21° C) in July.
Where to go
The Algarve has three main tourist regions:
Barlevento (windward coast): This rocky and dramatic stretch of coast curves southwest from the fishing town of Portimão, with its 1930s-style Praia da Rocha beach resort, to the deserted cliffs of Sagres (where Portuguese explorers set sail in the 1400s). The most popular resort town is Lagos, which is described on page 4 of this article.
BELOW: A beach near the Ponta da Piedade on the western edge of Lagos.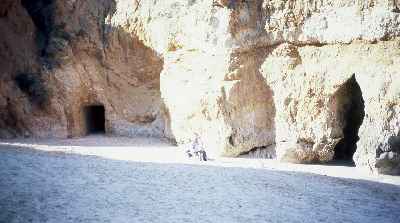 Central coast: Albufeira is the most famous spot in this area of beach resorts, golf courses, and other tourist developments. The town is a favorite of package tourists from Britain, France, and Germany who come for sunshine and nightlife. Faro, the modern capital of the Algarve, is primarily an airline gateway and regional business center. A newer and more upscale private development, Vilamoura, is geared toward the condo crowd.
Sotavento (leeward coast): Heading east from Faro, you'll encounter salt marshes, sand dunes, quiet beaches, the wildlife-rich offshore islands of the Parque Natural da Ria Formosa, and the quaint town of Tavira. This is a good area to visit if you're trying to avoid crowds during the high season. Ferries from Olhäo serve the offshore ilhas of Armona and Culatra, which are noted for their superb (and, in some places, deserted) beaches.
For more information on the Algarve, go to page 2 or use the navigation table at the bottom of this page.
Next Page: How to reach the Algarve
---
---