Europe > England > Port Isaac, Cornwall
Doc Martin
TV Location: Port Isaac, Cornwall
Archived article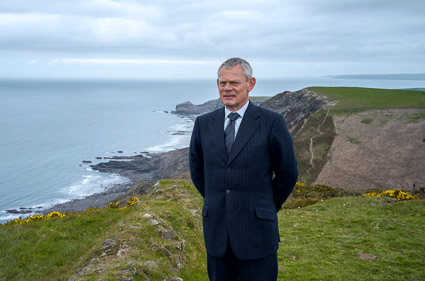 Doc Martin has been a staple on ITV, American Public Television, DVDs, and online streaming services  such as Acorn TV (which supplied the photos in this article) since its debut in 2004.
The series, which features Martin Clunes as a "GP with a brusque bedside manner and a phobia of blood," is now up to season 8 (as of October, 2017), and a final ninth season will launch in 2018.
The program is set in the fictional village of Portwenn, on the Cornish coast. In real life, Portwenn is Port Isaac, a small town in North Cornwall that has been a location in many films and TV shows--including Saving Grace, a film comedy from 2000 that starred Brenda Blethyn as a geriatric pot farmer and featured Martin Clunes as (cue fanfare!) Dr. Bamford, the village physician.
Port Isaac has an official population of 721, but that number swells considerably during the tourist season, thanks to the village's picturesque setting and--in recent years--its role as a mecca for Doc Martin fans. If you'd like to visit, we recommend booking early. (See Web links below.)
---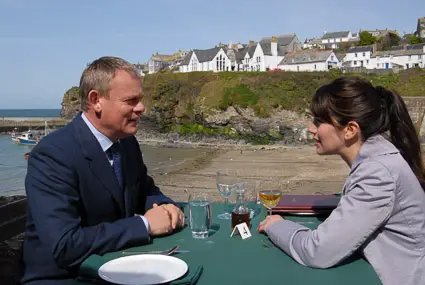 ABOVE: Doc Martin and Louisa Glasson (played by Martin Clunes and Caroline Catz) enjoy a date in Portwenn (actually Port Isaac) during season 3 of the internationally popular TV show.
---
Web links
Port Isaac and Doc Martin locations:
Visit Cornwall: Doc Martin Locations to Visit
The official Cornish tourism site describes specific locations that you can see, such as Fern Cottage (a.k.a. Dr. Martin Ellingham's survery, which you can rent as a holiday cottage) and the Golden Lion Pub (which the lead character and his film crew used for drinking and filming). Also see Visit Cornwall's Port Isaac tourist information pages.
BritMovieTours: Doc Martin Tour
Take a walking tour of 60 to 90 minutes with a local who's been an extra on the show. The tour operates year-round (once or twice daily from February to October, and on weekends from November through January.)
Cornwall Guide: Port Isaac
This independent travel site has useful information (including business listings) and a selection of photos.
Wikipedia: Port Isaac
The people's encyclopedia has an extensive article on Port Isaac. Some of the information is practical, such as how to get there by car or Western Greyhound bus.
Doc Martin TV show:
British Comedy Guide: Doc Martin
Comedy.co.uk covers the basics and more. The site includes episode summaries for all seasons to date.
IMDb: Doc Martin
The Internet Movie Database is the place to go for cast lists and other trivia that you mioght need to know during your local pub's quiz night.
Wikipedia: Doc Martin
This useful article is a must-read for Doc Martin fans.
Acorn TV: Doc Martin
We've included a "shout out" to Acorn TV, the subscription streaming service that has exclusive U.S. streaming rights to Doc Martin seasons 7-8 and the Doc Martin prequel movies. (Acorn TV was kind enough to supply us with photos for this article.) At last report, Acorn TV offered more than 1,800 hours of programming from 60 British TV shows, with delivery via the Web, mobile apps, and devices such as Roku, Amazon Fire TV, Apple TV, and Chromecast.
Linguistic note:
In British parlance, a "season" is a series, while in American usage, a "series" is a show. We've stuck with U.S. usage since we're Americans, but most of the sites that we've linked to in this article use "series" to mean "season." Still, as an expat American fisherman in Portwenn/Port Isaac might say, "Whatever floats your boat."
---
BELOW: Louisa, Martin, and baby James go for a picnic on Port Isaac's shingle beach in season 7.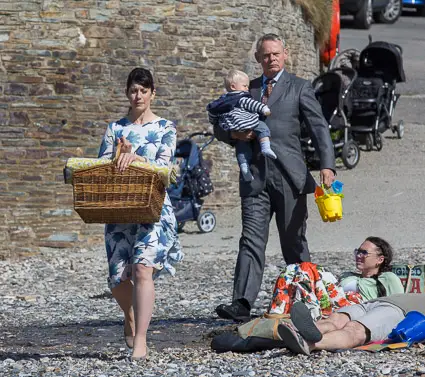 .
Photos courtesy of Acorn TV.