ECBC
Lance Executive Daypack
Don't let the "executive" name deceive you--this airport-friendly backpack is ideal for leisure travelers with laptops.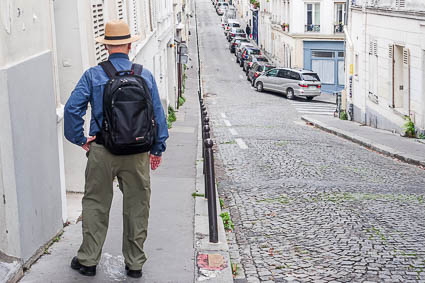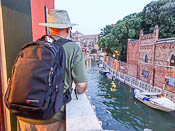 Backpacks have largely replaced totes and camera bags as carry-ons, especially in the notebook computer and tablet era. Today, nearly every maker of backpacks offers at least one model with a "laptop sleeve" or notebook pocket. Some such backpacks are well-designed, but on many, the laptop sleeve is an afterthought.
ECBC, a California-based maker of backpacks and luggage, takes a different approach. Its ECBC Lance Executive Daypack (which we field-tested over a five-month period) incorporates the company's TSA-compliant "FastPass System" that makes it unnecessary to remove laptops at many security checkpoints.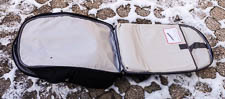 At the airport, you just unzip the FastPass compartment, open the backpack like a clamshell, and place the opened pack on the X-ray scanner's conveyor belt. There's no need to physically remove your laptop, which means you save time and have fewer items to retrieve from the plastic security bins.
"What about non-US airports that don't follow TSA procedures?" you may ask. Our reply:
 The FastPass compartment is a blessing in any airport, because you can remove and replace your laptop (if necessary) without having to rummage through the backpack's main compartment. This is a huge convenience, as I discovered on trips through Paris Charles de Gaulle Airport and Venice Marco Polo Airport.
But wait, there's more.
The FastPass System (which ECBC uses in a number of its backpacks and bags) is a nifty feature. But the Lance Executive Daypack has other thoughtful and clever touches, too.
For example, the Lance backpack's waist belt that can be useful if you're carrying a heavy load or walking a long distance. And, unlike most backpacks' waist belts, it won't get in the way when you aren't using it. You can simply unbuckle the belt and tuck its two halves into hidden compartments behind the pad that lies against your back. (See inset photo, with belt hidden.) As the expression goes, "Out of sight, out of mind."
The Lance backpack is also comfortable to wear, with a padded back, padded shoulder straps (which are covered in breathable, high-traction nylon netting on the sides that touch your body), and a padded top carrying handle. But its most useful feature, aside from its FastPass System, may be the 19 pockets and storage compartments. Here's a pocket guide, starting from the outside: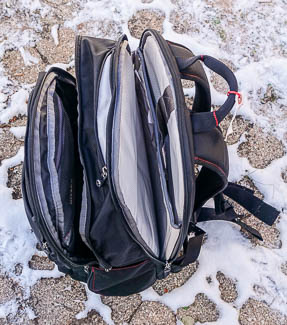 On the far left (not visible from this angle) is a small exterior zip pocket. This is handy for items of low value that you'll want to reach easily, such as candy bars, notebooks, plug adapters, and business cards.
Next (on far left) is a flap that unzips and tilts out to reveal two zippered pockets (one small, one medium) plus two pockets with Velcro closures.
In the middle is the backpack's main compartment. It's big enough to hold assorted cameras, lenses, chargers, and maybe a lightweight sweater or jacket. You'll also find another small zippered net pocket and a Velcro-sealed pocket for an iPad or anything else that fits.
Just behind the main compartment is a zippered mini-pocket on top of the pack. I've used this for sunglasses or a small cellular phone, but it could also hold a boarding pass or any other small item that you wanted to retrieve quickly.
On the right--next to the padded back--is the fully-zippered FastPass compartment with its Velcro-sealed laptop sleeve. The sleeve accommodates laptops of any size up to 17 inches. (At the bottom of the sleeve is a fabric-covered cradle for smaller laptops that locks into place with Velcro.)
Finally, the sides of the backpack have two pockets for water bottles. To keep the pack streamlined, the bottle pockets can be closed with zippers when not in use.
Other specifications worth noting:
The ECBC Lance Executive Daypack is made of water-resistant ballistic nylon and has YKK self-healing zippers. It's fully lined in ripstop nylon, with nylon netting for some of the pockets.
Exterior dimensions are 19.4 x 12.123 x 9.23 inches (49.3 cm x 30.8 x 23.4 cm). Weight is 3.4 lbs, or 1.5 kg.
The backpack is available in two colors, black or grey.
Bottom line:
The ECBC Lance Executive Daypack is extremely well-made, its FastPass laptop compartment is a great convenience for traveling through airports, and it offers enough compartments and pockets to keep most travelers happy.
For more information, or to order online, see:
e|c|b|c
The company's Web site has information on the Lance (reviewed here), other backpacks, rolling luggage, messenger bags, and a portable power pack for recharging small electronic devices when you aren't near a power outlet. (Our son tried the power pack with his iPhone and gave it a thumbs-up.)