Eisriesenwelt ice caves
(Werfen, Austria)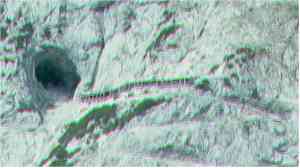 ABOVE: Entrance to ice caves, with approach path.
By Durant Imboden
When Salzburg's weather turns sultry and the streets are crowded with perspiring tourists, it's time to head 40 km (25 miles) south to Werfen, Austria. There, on a mountainside overlooking the Salzach River Valley, you'll find a respite from summer heat in the Eisriesenwelt or "World of the Ice Giants."
The Eisriesenwelt is a vast underground series of caves with some 42 km (26 miles) of tunnels and chambers. The caverns near the entrance are lined with ice that reaches a thickness of 20 meters (65 feet). Smooth walls, stalactites, stalagmites, domes, frozen waterfalls, and other ice formations have shaped a crystalline world that deserves a 5-star rating on any list of natural tourist attractions.
Breathe in, breathe out
The ice in the caves results from the inflow and outflow of air. In the winter, cold air blows into the caves, freezing the water from melting snow that has dripped into the cave during the warmer months. In summer, a cold breeze flows toward the entrance from deep within the caverns and prevents the ice from melting.
The caves were officially discovered in 1879 by Anton Posselt, but they were ignored by most scientists and the public until Alexander von Mörk--a noted speleologist of the Salzburg region--explored the caverns in 1912. Von Mörk died in World War I, and his ashes were later interred in the Mörk-Dom, or "Mörk's Cathedral," a chamber of ice that rises 35m (115 ft) above the cave floor.
Bundle up and take a tour
The Eisriesenwelt is open to tourists from May 1 until late October. The guided 75-minute tours start at 9 a.m., with the last tour departing at 3:30 p.m. (4:30 p.m. in July and August).
When you enter the caves, the guide will hand you an open-flame carbide lamp (unless the lamps have been replaced by electric lanterns since I toured the Eisriesenwelt). Several times during the tour, the guide will disappear behind an ice sculpture or formation and set off a magnesium flare. The effect of the intense bluish-white light is stunning, and it throws every detail of the ice into sharp relief.
A few points worth noting:
During the tour, you'll climb a total distance of 134m (440 ft). That may sound strenuous, but my wife managed the tour easily when she was five months pregnant. (The ascent and descent are on well-maintained steps; no rock or ice scrambling is required.)

The caves are chilly, with temperatures averaging 0° C (32° F) or below. Don't make the mistake of wearing a t-shirt and shorts or a sundress. Instead, wear long trousers and bring a jacket or warm sweater.
Getting to the caves