GiZmo Travel Bag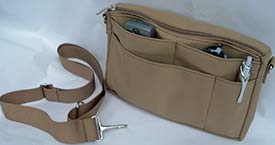 ABOVE: A GiZmo bag in cappuccino. (The bag is also available in vanilla cream and licorice.) INSET BELOW: Zippers can be secured with the strap clips.
By Durant Imboden

Last year, I wrote about the PUP or "personal utility pouch" from Jean Newell, a Florida real-estate agent who designed the small bag as a handy organizer for a notepad, mobile phone, business cards, and other necessities. Since then, Ms. Newell and her company, Newco Enterprises, have introduced a slightly larger bag that's even better for travel: the GiZmo bag, which improves on the original PUP design with 20 percent more storage space and better protection against pickpockets.
The unisex GiZmo bag is about the size of a small purse, measuring about 9.5 inches long and 7 inches high (roughly 24 x 18 cm) when empty.
Its zippered main storage compartment is big enough to hold your digital camera, cell phone, and iPod (or possibly a small guidebook). It also has a small pocket for credit cards and similar items.
A second zippered compartment on the back has more than enough room for a passport and wallet.
The zippers on both compartments can be locked into the strong metal clips of the nylon shoulder strap (which is long enough to wear across your body, thereby discouraging snatch-and-run thieves).
The front of the GiZmo bag has two Velcro-sealed pockets and two open pockets for pens, subway tickets, mini-maps, and other small items--or for your mobile phone, if you're willing to keep it out in the open.
Finally, the GiZmo bag is machine-washable, and the the smooth, heavy-duty nylon fabric can be personalized with iron-on patches.
Verdict:
Like the PUP, the GiZmo bag isn't a replacement for a full-size travel tote or camera bag, but it's much safer (and more attractive) than a belt or "fanny pack."
The GiZmo bag is especially useful if you wear a backback while sightseeing: You can use your day pack for sweaters, books, and other items that aren't likely to interest pickpockets, while you keep your compact digital camera, phone, and other valuables in the GiZmo bag. (Alternatively, you could remove the GiZmo's strap and use the multi-compartment bag as an organizer within a larger tote or purse.)
The GiZmo bag has a mail-order price of US $24.95 plus a modest shipping charge. For more information, visit www.gizmobag.com or watch Jean Newell's video demonstration of the GiZmo bag on YouTube.
---
---