Keukenhof Gardens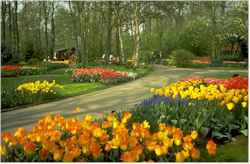 By Durant Imboden
Flowers are a year-round industry in Holland. Fly into Amsterdam's Schiphol Airport in the early hours of a winter morning, and you'll see the glowing rectilinear shapes of massive hothouses scattered across the black predawn landscape for miles.
If you arrive in spring, you'll be luckier. You can enjoy huge fields of flowers in the great outdoors, and--even better--you'll almost inevitably spend half a day touring the Keukenhof International Flower Exhibition, a 70-acre showcase for the Dutch flower industry. For nine weeks every spring, these famous gardens draw more than three quarters of a million visitors to see a changing display of more than 7 million flowers--including some 1,000 varieties of tulips alone.
In his delightful guidebook, Holland at its Best, Robert S. Kane described Keukenhof's pedigree:
"As Dutch history goes, Keukenhof is young. Situated on the grounds of a long-razed castle, inhabited during the fifteenth century by a countess whose four husbands (one at a time) included a dauphin of France and a Duke of Gloucester, it was opened a few years after the end of World War II by a group of bulb-growers intent on exhibiting the splendor of Dutch flowers. Did they ever succeed. Keukenhof had become prestigious enough by 1962 for Queen Juliana and Prince Bernhard to have celebrated their twenty-eighth wedding anniversary on the grounds, with imported royals and heads of state topping the guest list."
When to come
Keukenhof's season runs from late March through late May, with the park open from 8:00 a.m. to 7:30 p.m. daily. (The ticket office closes at 6 p.m.)
Daffodils, crocus, and narcissi are on display when the gardens open in March, with tulips making their appearance a few weeks later. Hyacinths kick in around mid-April and stay in bloom for several weeks. The best time to come is in the last half of April, when you're likely to catch everything blooming at once.
Keukenhof also hosts the Dutch National Bulb Market in October. Click the official Keukenhof Web site link on page 2 for this year's calendar.
What to see
Flowers, flowers, and more flowers. Other attractions include Europe's largest fountain, a 700-tree labyrinth, and--for children--a "scavenger trail" and petting zoo. If it rains, head indoors to view rare species and other exhibits in the pavilions, or grab something to eat in the cafeterias.
You may also want to see the Lisse Flower Parade, the Aalsmeer Flower Auction, or the Black Tulip Museum in Lisse. For more information on these and other flower-related events of interest to tourists, see the Web links on page 2 or the tourist offices in nearby cities like Amsterdam and Haarlem.
Tip for two-wheeled visitors
You can rent bicycles at Keukenhof to explore the bulb-growing region around Lisse. The six marked cycling routes range from 5 km (3 miles) to 40 km (25 miles), and information is available in seven languages.
At Keukenhof, pavilions and nearly all of the sidewalks and paths are wheelchair-accessible, and all pavilions have accessible toilets. For more information, see the Keukenhof Web site.
How to reach Keukenhof
Keukenhof is in Lisse, in the heart of Holland's bulb region between Amsterdam and The Hague. The official Keukenhof Web site has a "How to get there" page with directions for reaching the gardens by road or public transportation. See the links on page 2.
Next page: Keukenhof Web links
---
---
---