Europe > Belgium > Coastal tram
De Kusttram (Coastal Tram), Flanders
The Kusttram runs 68 km (42 miles) along the Belgian Coast, stopping at 67 towns and beach resorts during a 2-1/4-hour journey. It's the world's longest streetcar line.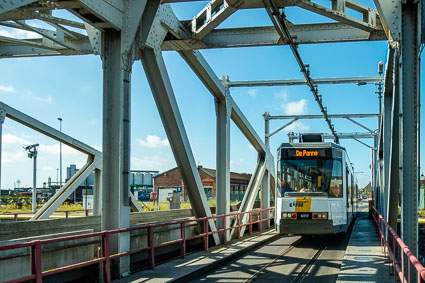 The Flemish Coast of Belgium runs southward from Knokke-Heist to De Panne, with the city of Oostend (a.k.a. Ostend) roughly in the middle. This stretch of coast, which faces the North Sea, is dotted with towns and beach resorts for its 68-km (42-mile) length.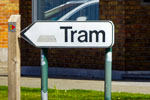 The Kusttram, or Coastal Tram, has provided cheap, frequent, and reliable transportation to locals and tourists in West Flanders since 1885. Today, the line's electric streetcars run at 10-, 15-, or 20-minute intervals during the day (or every 30 to 60 minutes in late evening) and carry more than 3 million passengers each year.
Handy transportation for cruise passengers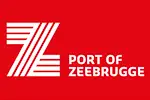 In addition to making it easy for guests at beach resorts to reach larger towns (or vice versa), the Kusttram provides a convenient way for ship passengers to get from the Zeebrugge Cruise Terminal to locations along the coast.
For example, a tram from Zeebrugge Kerk (near the cruise terminal) to Oostende takes just over an hour and costs far less than a cruise line's shuttle bus.
Buying tickets and boarding the tram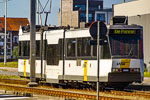 You can buy single-trip tickets, day passes, week passes, and various special tickets (such as bicycle tickets) in the transit system's Kustlijnwinkels (Coastal Line stores) at major stations along the line. Passes are also available at many newsstands or press shops in coastal towns or resorts.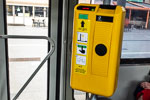 Another option is to buy "digital tickets" via a smartphone app or an SMS text message. For more information on tickets and fares, see the Kusttram's information page.
Web links
De Kusttram (The Coastal Tram)
The line's official Web site has timetables, maps, and other information in English, Dutch, French, and German. To learn about connecting buses and other local transportation, see the English-language De Lijn transit site.
Wikipedia: Coast Tram (Belgium)
There isn't much to this article, but it does provide some history and technical data.
Urbanrail.net: Kusttram
This railfan site has a map and pictures of the Coastal Tram line and its rolling stock.
---
More photos
BELOW: Two trams (one southbound, one northbound) meet in the Kerk station near the Zeebrugge Cruise Terminal.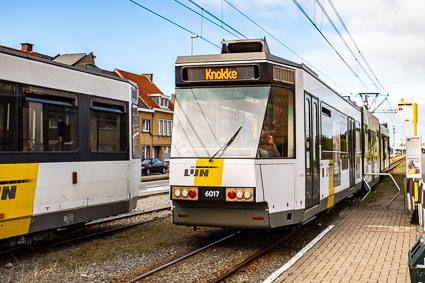 ---
BELOW: Coastal Trams have plenty of seating, with large windows that make it easy to enjoy the sights.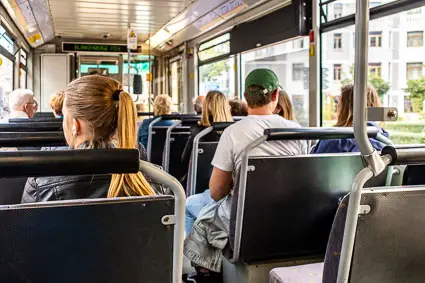 ---
BELOW: One of the nicer stops along the northern section of the Kusttram's route is Blankenberge, which has nearly 20,000 inhabitants.
Blankenberge is a popular seaside resort with a wide beach and an Art Deco pier that was built in 1933. It also has an excellent downtown tourist office (bottom photo) with helpful staff and free public toilets.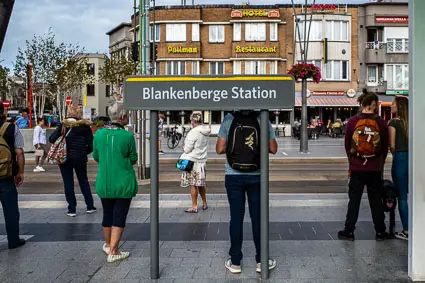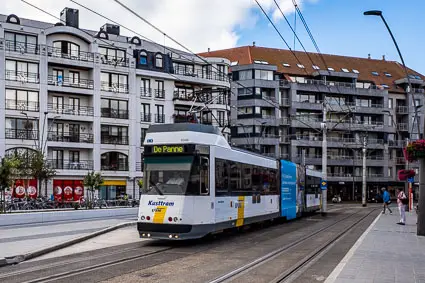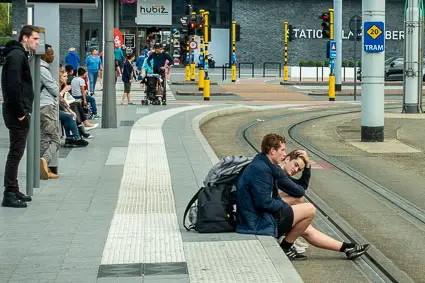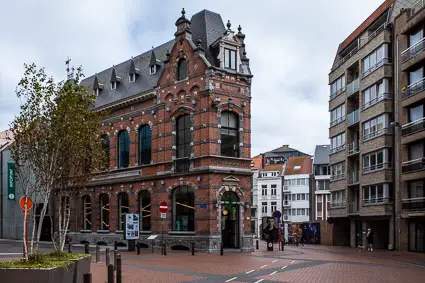 ---
---