Europe > Portugal > Lisbon > Where to stay > 5-star hotels
Lisbon 5-Star Hotels
From: Lisbon, Portugal travel guide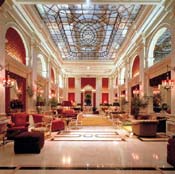 ABOVE: Main lobby of the historic Hotel Avenida Palace.
Lisbon five-star hotels
Avenida Palace
Lisbon's original luxury hotel is still dishing up Belle Epoque elegance at its wonderfully convenient location in the heart of downtown Lisbon.
Dom Pedro Lisboa
The ultramodern Dom Pedro Lisboa is on top of a hill facing the Amoreiras shopping mall, just outside the downtown area. Its amenities include tennis courts and both indoor and outdoor swimming pools.
Altis Grand
The Altis Grand has 300 rooms, a rooftop restaurant, a swimming pool, fitness facilities, a parking garage, and rooms for disabled travelers. It's located just west of the Avenida da Liberdade, near the Botanical Gardens. See our hotel review.
Olissippo Lapa Palace
Traditional Portuguese decor is a hallmark of the Lapa Palace, a former stately home in Lisbon's embassy district. The 19th Century palace opened as a hotel in 1992.
Real PalŠcio
This deluxe boutique hotel occupies a renovated 17th Century palace, just off the Avenida da Liberdade and near the Parque Eduardo VII.
Four Seasons Hotel Ritz
The opulent Ritz was built in the 1950s. The 10-story building overlooks the Parque Eduardo XII, and 272 of the 282 guest rooms and suites have private terraces.
Sheraton Lisboa Hotel & Spa
Modern comforts, English-speaking staff, and a large outdoor pool have long drawn well-heeled American and Canadian tourists and business travelers to this 318-room skyscraper hotel. The hotel, which was built in 1972, is about half a kilometer from the Marques de Pombal Square.
Tivoli Avenida Liberdade Lisboa
A spectacular lobby, a heated pool, and tennis courts are among the amenities that draw vacationers and business travelers to this long-established luxury hotel on the Avenida da Liberdade. The Tivoli Lisboa has 329 rooms on eight floors, including 44 nonsmoking rooms and two rooms for disabled guests. The rooftop Terrace Grill offers dramatic city views, especially at night.
Cascais
Farol Hotel
With 33 rooms, a sushi bar, a high-style restaurant, and a location above rocks and a yacht harbor in suburban Cascais, this boutique hotel is a perfect if you have a taste for trendiness and are traveling by car. Rooms have been individually "dressed" by top Portuguese fashion designers.
Resort
Penha Longa Resort
This 117-room was once a monastery. It's located in the hills behind Sintra, just outside Lisbon, where you'll find national palaces, museums, and antique stores. When you aren't in town sightseeing or enjoying nature walks on the hotel's property, you can dine in one ofthe hotel's eight restaurants, play tennis, ride horseback, or enjoy the Robert Trent Jones course at the Penha Longa Golf Club.
---
---
---
---