By Durant Imboden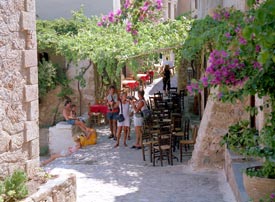 ABOVE: Cafés and shops line the main pedestrian street in Monemvasia's old town.
The town today
Monemvasia consists of three parts:
The old or lower town of Kástro, which lies within stone ramparts on the Rock of Monemvasia's lower slopes. To reach it, walk or drive across the short causeway from the mainland to the entrance portal in the walls. Walk the few steps through the tunnel, and you'll emerge into a sunny town of tiled-roof houses, attractive shops and cafés, pleasant squares, and tiny churches.
Most of the old town's buildings are made of the local stone, and many have been renovated as summer homes for wealthy Greeks and foreigners. (Restoration work is closely supervised by the archaeological authorities to keep TV antennas, air conditioners, and other modern intrusions out of sight.)
The upper town or citadel, which you can reach by climbing a steep path from the old town. The ruins high on the rock include the old fortress or Acropolis and the Agia Sofia church.
The port, or Gefira/Yefira, a modern town with a supermarket, travel agency, bus connections, and other services.
The town is quite compact, and everything of interest is within walking distance. (Note: Cars aren't allowed in the old town, but you can park outside the entrance.)
Next page: Hotels and restaurants
---
---
---