Luggage and Packing
Page 3
Continued from page 2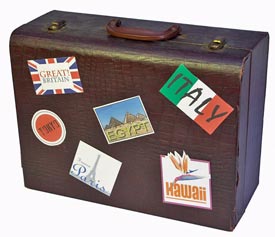 More packing resources
The Universal Packing List
Enter your travel preferences with the e-form, and Mat Henrickson's site will suggest what to take on your trip.
One Bag
"The Guerrilla Guide to Travel Happiness," from a spokesman for the carry-on school of luggage utilization. (Formerly known as The Compleat Carry-On Traveler.)
Tips for Travelers
Kaitlin Duck Sherwood has pages on what to take, what to pack it in, and "how to get what you take into what you take it in." (This vintage site hasn't been updated in years, but Ms. Sherwood's advice is still as useful as it was in 1994.)
Travelite FAQ
Lani Tashima's blog offers practical packing tips and product reviews.
Back to: Packing for Europe - Introduction
---
---
Photo copyright © Jim Jurica.