Rental-Car Insurance
Page 2
Continued from page 1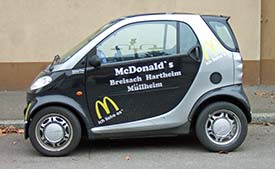 ABOVE: In Breisach, Germany, a little car promotes Big Macs.
Inexpensive Collision Damage Waivers
Travel Guard International, a leading U.S. travel-insurance specialist, sells a worldwide $35,000 Collision Damage Waiver for only US $9.00 per day plus a policy fee of $3.00. This rate is a bargain compared to the prices charged by rental-car firms, although there is a $250 deductible.
Final tips
If you plan to cross national borders in a European rental car, make sure you have the rental firm's approval and any required documentation before you leave the country where you rented the car. This is especially important when driving to Italy and Eastern Europe.
If you're a resident of Britain or Continental Europe, check with your car-insurance agent or broker to learn what may be covered by your existing policy.
Related articles
Travel Insurance europeforvisitors.com
When the unexpected occurs, trip coverage can save the day.
Driving in Europe europeforvisitors.com
Information and links on trip planning, car rentals, short-term leases, traffic laws, International Driving Permits, and more.
Car or Train? europeforvisitors.com
Should you tour Europe on four wheels or ride the rails? Use this quiz and related resources to make a wise decision.
Europe by Van and Motorhome europeforvisitors.com
Relive the '60s in a VW van or cruise the Continent in a land yacht.
Back to: Rental-car insurance - Page 1
---
---
---