Rick Steves Ravenna Rolling Case
Luggage review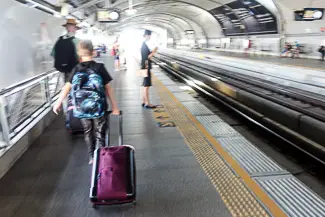 ---
By Durant Imboden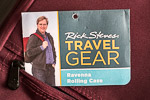 When you're buying a suitcase, it makes sense to think about how it will be used.
For example, a four-wheeled spinner bag may be ideal if the suitcase will mostly be rolled through airports and from taxis to hotel lobbies to elevators. But if you need a case that's easy to haul up and down Métro steps in Paris, over footbridges in Venice, or through cobblestoned streets and squares, you could do worse than buy a bag that was engineered for travel in Europe.
A case in point (no pun intended) is the Rick Steves Ravenna Rolling Case, which was designed under the supervision of America's best-known guidebook author and TV travel personality. Mr. Steves has been traveling in Europe since the 1970s, and over the years, his Europe Through the Back Door business has offered a variety of affordable lightweight suitcases and backpacks for independent travelers--including the new Ravenna Rolling Case, which was sent to us for field-testing and review in late 2016.
Bag basics:
The Rick Steves Ravenna Rolling Case is a "hybrid" bag that combines stiff polycarbonate shell components with woven polyester fabric. This type of bag offers the strength, impact resistance, and light weight of molded polycarbonate with the convenience of exterior pockets and a zippered expansion panel.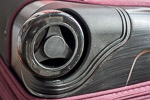 Unlike the spinner bags that most luggage manufacturers are promoting these days, the Ravenna Rolling Case is a classic two-wheeled design with large recessed wheels that won't spin out of control or snap off when you're bouncing the suitcase up a stone staircase or over a curb. The wheels are located at the outer edges of the bag for maximum stability, and a skidplate protects the bottom of the bag against bumps and scrapes.
The interior of the bag is well-designed, with two main compartments separated by a zippered fabric partition that includes a mesh storage pocket. More pockets are on the bag's exterior.
The bag's price is extremely competitive for a suitcase of its quality, probably because RickSteves.com sells direct with no dealer markups.
Our field test:
A sample Rick Steves Ravenna Rolling Case arrived a few days before our family flew from the U.S.A. to Vientiane, Laos via Bangkok, Thailand for our son's wedding.
At first glance, the bag looked small, but appearances can be deceiving: The Ravenna Rolling Case measures 21" x 14" x 9" or approximately 53 x 36 x 23 cm (including wheels) and has a capacity of 2,640 cubic inches or 43 liters (3200 cubic inches or 52 liters when expanded).
 I was able to pack it with:
3 shirts

3 pairs of trousers

3 pairs of underpants

3 undershirts

5 pairs of socks

3 handkerchiefs

A lightweight cotton bathrobe

A hanging plastic toiletries kit

A necktie (I stuck my wedding suit in another bag)

Two pants hangers and three plastic hangers for drip-drying laundry

A variety of miscellaneous items
And this was without expanding the bag by 2 inches. (On the return trip, I switched the bathrobe to another bag, replacing it with a pair of shoes and two bags of books that I'd purchased in Laos--and again, I didn't need to undo the expansion zipper.)
During the next two weeks, the bag endured:
Eight flights as checked baggage on three airlines, including luggage handling at five airports in the U.S. and Asia.

Trundling around the broken, crowded sidewalks of Bangkok, with our 9-year-old grandson in charge of the bag.

Several trips aboard crowded public transportation in Bangkok, where the bag's small size and light weight were a blessing.
After 13 days and nearly 22,000 miles or 35,000 km of flying, airport baggage carousels, and urban schlepping, the Rick Steves Ravenna Rolling Case was still in fine shape, and so were the bag's contents.
Verdict:
The Rick Steves Ravenna Rolling Case is a great bag for independent travel, and it's my new "go-to" suitcase for trips when I want to travel light. (At its heaviest, with shoes and books, the packed suitcase weighed barely more than 20 lbs or 9 kg during our trip from Laos to the U.S. On the westbound trip to Laos, without shoes and books, it was about 16 lbs or 7 kg.)
More information and ordering:
For product details, specifications, and current prices, see the Ravenna Rolling Case order page at Ricksteves.com.
---
A detailed look at the Rick Steves Ravenna Rolling Case: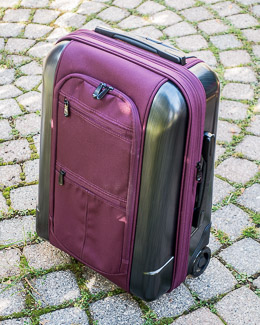 The Rick Steves Ravenna Rolling Case is a lightweight bag with a two-wheeled design that performs well on the cobblestones, concrete pavers, stairs, and other uneven surfaces that you're likely to encounter during a European trip. Its light weight also makes it convenient for hotels without elevators.
---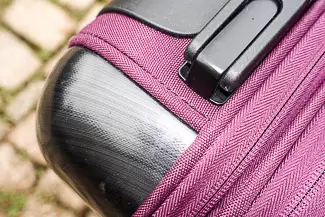 The Ravenna Rolling Case is made of carbon-reinforced polycarbonate and polyester fabric. Three fabric colors are available: Plum (shown here), Blue Spruce, and Black.
---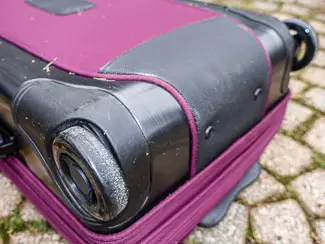 The bag's large wheels are placed at the outer corners for stability, and they're recessed to prevent breakage.
A skidplate protects the exterior from scuffs when the bag is bounced up steps or over curbs.
---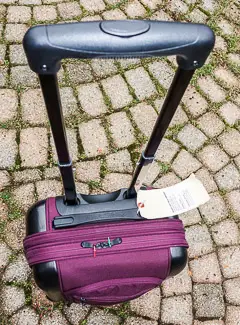 The two-section telescoping handle locks in both the recessed and extended positions.
---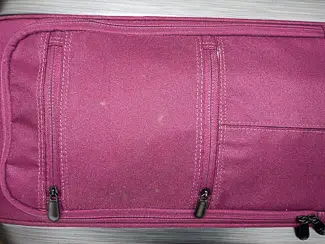 Large exterior zipper pockets hold miscellaneous items for easy access. (We suggest placing an itinerary with travel dates, hotel addresses, and contact information in the top pocket.)
---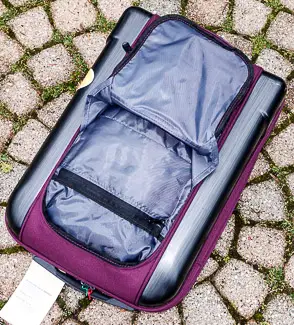 A U-shaped zipper opens to reveal another set of pockets behind the two main exterior pockets.
---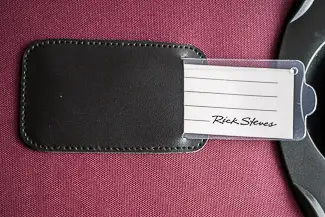 On the back of the case, you'll find a sliding ID tag holder.
---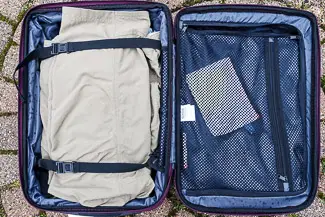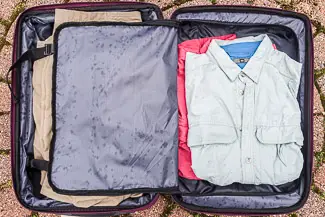 The clamshell bag's interior is divided into two sections. The first view shows the bottom compartment and the zippered pocket/partition, while the second view shows the upper compartment.
When you expand the bag by pulling on a zipper, the lower compartment becomes two inches deeper. (I found it convenient to expand the bag for easier packing, then re-zip the expansion gusset after closing the suitcase.)
---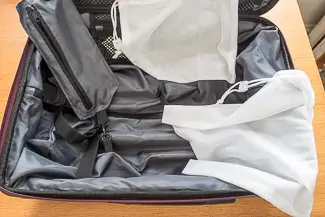 Other interior amenities include a zippered documents case (for carry-on use) and a pair of smaller bags that can hold socks and miscellaneous items.
---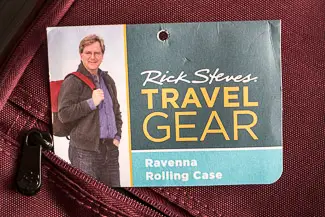 The Ravenna Rolling Case bears the imprimatur of Rick Steves, the American guidebook author, TV travel guru, and tour organizer. (You can read our archived interview with Rick Steves here.)
Published December, 2016