Scotland's Whisky Distilleries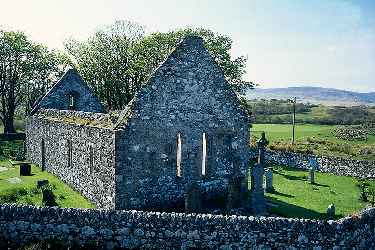 ABOVE: Ruined church on the Isle of Islay, where seven distilleries produce distinctive single-malt whiskies.
By Durant Imboden
Scotch whisky has been distilled, in one form or another, since Celtic times. The Scotch Whisky Association writes:
Throughout the centuries, Whisky has become inextricably woven into the fabric of Scotland's history, culture and customs. This has not been without its hardships. Around the time of the Act of Union with England in 1707, whisky production was effectively driven underground to evade excessive levels of taxation, a tax problem still faced today. For well over a hundred years, the distillers fought a series of bloody skirmishes with the excisemen.

In 1823, the Excise Act was passed, sanctioning distilling in exchange for a fee. Since then, Scotch Whisky has established itself as the world's leading national drink. It has developed - from uncertain origins and through turbulent times - to become the colourful creation we know today, with a richly-flavoured history to match.
Today, Scotch isn't just a tipple. It's also a tourist attraction, with more than 40 distilleries welcoming individual visitors or groups. Some charge admission, others credit shop purchases against the ticket price, while some--among them, Glenfiddich, Glenlivet, and Laphroaig--are free.
If you'd like to visit one or more distilleries while touring Scotland, keep these tips in mind:
Plan ahead. Hours and admission policies vary, so check the links on page 2 for visitors' information.

Allow plenty of time. In distilleries that offer formal tours, the pace is set by the tour guide.

Don't look for mass-market brands. Popular whiskies (including some highly regarded labels) are "blended" or "vatted" to a recipe, using spirits that may come from more than one source. They may be fine whiskies, but they seldom if ever have their own distilleries.

Don't drink and drive. If you're offered a sample at the end of the tour, say "No, thanks" to undrunk drams from the teetotalers in your group unless someone else is driving.
Whisky and distillery Web links
---
---
---