Scotland's Whisky Distilleries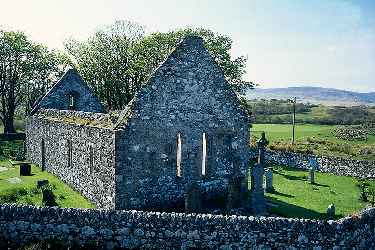 ABOVE: Ruined church on the Isle of Islay, where seven distilleries produce distinctive single-malt whiskies.
By Durant Imboden
Scotch whisky has been distilled, in one form or another, since Celtic times. The Scotch Whisky Association writes:
Throughout the centuries, Whisky has become inextricably woven into the fabric of Scotland's history, culture and customs.

This has not been without its hardships. Around the time of the Act of Union with England in 1707, whisky production was effectively driven underground to evade excessive levels of taxation, a tax problem still faced today. For well over a hundred years, the distillers fought a series of bloody skirmishes with the excisemen.
 
In 1823, the Excise Act was passed, sanctioning distilling in exchange for a fee. Since then, Scotch Whisky has established itself as the world's leading national drink. It has developed - from uncertain origins and through turbulent times - to become the colourful creation we know today, with a richly-flavoured history to match.   
Today, Scotch isn't just a tipple. It's also a tourist attraction, with more than 40 distilleries welcoming individual visitors or groups. Some charge admission, others credit shop purchases against the ticket price, while some--among them, Glenfiddich, Glenlivet, and Laphroaig--are free.
If you'd like to visit one or more distilleries while touring Scotland, keep these tips in mind:
Plan ahead. Hours, admission policies, and prices vary, so check the links below for visitors' information.

Allow plenty of time. In distilleries that offer formal tours, the pace is set by the tour guide.

Don't look for mass-market brands. Popular whiskies (including some highly regarded labels) are "blended" or "vatted" to a recipe, using spirits that may come from more than one source. They may be fine whiskies, but they seldom if ever have their own distilleries.

Don't drink and drive. If you're offered a sample at the end of the tour, say "No, thanks" to undrunk drams from the teetotalers in your group unless someone else is driving.
---
Whisky and distillery Web links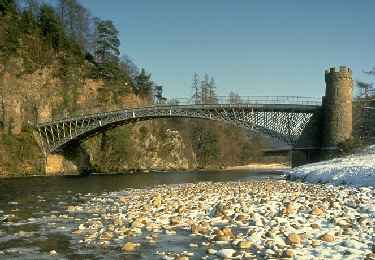 ABOVE: Craigellachie Bridge in Scotland's Spey Valley, home to nearly a dozen distilleries.
Scotch Whisky
Whiskey (whiskey)
A short introduction to Scotch whisky with book recommendations and useful addresses. From the Scottish FAQ at Siliconglen.com.
Whisky travel information
The Whisky Portal's Maps
Plan your tippling tour with one of these three maps from Collins Publishers and Neil Wilson.
The Edinburgh Malt Whisky Tour
Read the FAQ and other information, then click the active map for descriptions of more than 50 distilleries.
Scotland's Malt Whisky Trail
"The only malt whisky trail in the world" is for people who prefer bottles to backpacks. The site includes The Whisky Blog.
Distillery Web sites
Glenfiddich Whisky
This distillery has produced single-malt Scotch whisky since 1887.
Glengoyne
Even non-drinkers will enjoy the stunning photos here. The distillery is 35 minutes from Glasgow and 70 minutes from Edinburgh by car.
Glenmorangie
Learn about the distillery and book a room at Glenmorangie House in nearby Cadboll. (If you're visiting the Invergordon/Inverness area in August, you can enjoy a complimentary wee dram at the Tain Highland Gathering.)
Highland Park
The northernmost whisky distillery in the world offers tours year-round. The distillery, which is located in the Orkey Islands, has earned a "five-star" award from the Scottish Tourist Board for its visitor facilities. Great quote: "Wind, rain, lightning, ice, crashing waves, crushing hail, all of this--every crack of thunder, every blast of wind--goes into Highland Park. Maybe if we'd been in the Bahamas we'd have made great smoothies."
Isle of Arran Whisky Distillery
Although Scotland's newest whisky distillery opened in 1995, it uses traditional distilling methods and is situated to take advantage of water that is "cleansed by granite and softened by peat as it comes down from the mountain above." The distillery has a Visitor Centre with a café.
The Macallan
The Macallan Distillery is located on a 485-acre estate in Craigellachie on the River Spey. It was founded in 1824, was one of Scotland's earliest licensed distilleries, and is known for its fine single-malt whiskies.
Scotland tourism sites
Visit Scotland
The Scotland national tourist board's official Web site is packed with information for tipplers and teetotalers alike.
Scotland for Visitors
Read the articles, explore the links, and view the picture galleries at this vintage site.
This is Edinburgh
The Scottish capital's well-organized tourism site has information on Edinburgh and its nearby countryside and coast.
The Internet Guide to Scotland
Joanne Mackenzie-Winters wrote this 80,000-word guide, which emphasizes the Highlands and islands of Scotland. 
---
---