Highland Park Whisky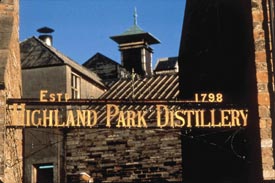 ABOVE: The Highland Park Distillery is open to visitors year-round. INSET BELOW: Gerry Tosh offers whisky tips and tipples during a tasting in New York.
By Durant Imboden

Gerry Tosh is a man with a mission, which isn't to say that he's a latter-day Billy Graham. Mr. Tosh, a Scotsman with a nose for fine single malts, is the Global Brand Ambassador for Highland Park Whisky, which is produced by the northernmost whisky distillery in the world.
Wherever he travels in the 70 countries where Highland Park is sold, the 30-year-old Tosh brings the spirit of the Orkney Islands with him--or perhaps one should say "spirits," as in a selection of 12-, 18-, and 25-year-old whiskies whose character was formed by a land of "windswept moors, craggy outcrops, and ancient religious sites" where "wind, rain, lightening, freezing ice, crushing waves and hail provide the perfect setting for the home of one of the worldís best malt whiskies."
I crossed paths with Gerry Tosh in Minneapolis, Minnesota, where he stopped over on his way to a publicity event in Alaska. Having passed up the chance to have Mr. Tosh visit my home office for a tasting by my desk (what would the neighbors have thought?), I was asked to sample a wee dram--or several--at a downtown restaurant. I accepted the invitation; until I could manage a visit to Orkney and the Highland Park distillery, it made sense to let the islands--or at least their spiritous essence--come to me.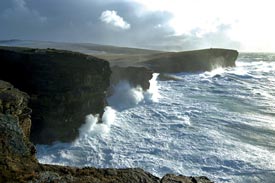 ABOVE: The Yesnaby cliffs face the Atlantic on the western coast of "The Mainland," the largest of Orkney's 70 islands. Winds carry salt from the crashing waves across the island, flavoring everything from the floral heather peat to the oak casks where Highland Park whisky is aged for 12 to 25 years before bottling.
Making the whiskies
When I arrived for lunch with Gerry Tosh and his PR representative, Amanda Hathaway of M. Booth & Associates, I found two bottles of Highland Park whisky next to my plate. For an instant I thought they might have been schwag, but not to worry: Mr. Tosh wasn't giving out so much as a swizzle stick, so my integrity as a fledgling liquor journalist wasn't compromised. Instead, I was treated to facts about Highland Park's single-malt whiskies:
Unlike "big" Island Whiskies (Laphroig, for example), Highland Park has a very subtle smoky flavor, with only 4 parts per million of phenol compared to 50 ppm for some of its peers. This is because the peat on Orkney comes from floral heather bushes, which burns hotter and cleaner than the grassy peats on other islands. (If you visit Highland Park's distillery during the kilning of the barley malt, you'll see white smoke from the pagodas, not the blue smoke that's typical of other island distilleries.)
Highland Park's single-malt whiskies are aged in plain oak casks and used sherry casks; the sherry casks add a sweetness and complexity to the whisky's flavor. About 20% of the spirits in Highland Park's 12-year-old whisky come from sherry casks; for the 18-year old, the percentage is 45%, and sherry casks account for 50% of the whisky in a bottle of 25-year-old Highland Park.
Because Orkney's temperatures are cool and nearly constant throughout the year, the whisky doesn't soak as deeply into the oak of the casks during aging as it would farther south. This results in a gentle aging process with a less "woody" flavor. Salt in the local air also has a subtle impact on Highland Park's flavor by seasoning the casks during the 12 to 25 years of aging.
Highland Park is one of only five distilleries in Scotland that still use traditional "floor malting," where the "green" or germinated malt is spread manually on a perforated steel floor and dried slowly over a peat fire.
Though Mr. Tosh is a man who clearly knows his whiskies (and how to nose a whisky), he isn't a whisky snob. Over lunch, he described sharing a bottle of Highland Park and a tub of vanilla ice cream with his wife while watching the Eurovision Song Contest on TV. ("We'd take a bite of ice cream, then a sip of whisky, then another bite of ice cream, then another sip of whisky....It was one of the best experiences of my life.") He also told of visiting a working-class club where men would drink Scotch whisky mixed with milk. ("It sounded awful, but it turned out to be surprisingly good.")
Tasting the results
Having whetted his guests' appetites with talk of herbal smoke, honey flavors, and sherry sweetness, Gerry Tosh broke the seals on three bottles of whisky and passed them around the table for tasting. Here Mr. Tosh's off-the-cuff remarks and my own layman's comments:

Highland Park 12 Years Old
Gerry Tosh: "A spirited 12-year-old, and a great 'session whisky.' I could drink it all day long."
My comment: A sweet and subtle whisky, and a good transition from blended to single-malt Scotch for anyone who's been put off by heavy, smoky Island whiskies.

Highland Park 18 Years Old
Gerry Tosh: "A big step up in complexity from the 12-year-old. This is the bottle I'd keep in the back of the liquor cabinet to serve on special occasions."
My comment: This whisky has an even nicer flavor and a smoother texture than the 12-year-old, with less of an "alcohol vapor" sensation after swallowing. Gerry Tosh believes that 18-year-old whiskies represent the best all-around value for whisky aficionados, and Highland Park's 18-year-old is convincing proof.

Highland Park 25 Years Old
Gerry Tosh: "This bottle is mine--it's the one I'd keep locked up."
My comment: There's less difference between the 25- and 18-year-olds than there is between the 18- and 12-year-olds, but this complex, subtle whisky is definitely special. It takes on an even more syrupy texture with a splash of water. (Gerry Tosh suggests adding water, which also helps to release flavor and aroma that might otherwise be masked by the alcohol in this high-proof Scotch.)
Highland Park also offers special bottlings from time to time. For example, at press time, there was a limited supply of Highland Park 1977 Vintage Reserve available at US $130 per bottle.
Dessert tip: At another journalist's suggestion, Gerry Tosh ordered vanilla ice cream for dessert, and we all tried both the scoop-and-sip technique and the pour-the-Scotch-over-the-ice-cream approach. The jury's verdict: Highland Park and ice cream are a winning combination--and as a bonus, single-malt Scotch is lower in fat and calories than hot fudge.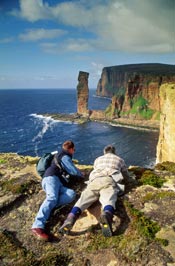 ABOVE: The Old Man of Hoy, a 450-foot or 137m sea stack, is Orkney's most famous landmark. The pillar is the remaining leg of an arch that was carved out of the headland and later washed away by the sea.
Web links
Highland Park
Learn about the whiskies, their history, and year-round tours at a distillery that has been in operation (both illegally and legally) since 1798.
VisitOrkney
Orkney's official tourism site has information on island hopping, places to stay, eating and drinking, reaching the 70-island archipelago, and more.
Orkneyjar
"The Heritage of the Orkney Islands" is brought to life on Sigurd Towrie's nonprofit site, which is "dedicated to the preserving, exploring and documenting the ancient history, folklore and traditions of Orkney."