Scottevest Convertible Travel Pants
Product Review
by Durant Imboden
Trousers that convert from long pants to shorts (or vice versa) are popular with travelers, so the news that Scottevest makes a product called "SeV Convertible Travel Pants" may inspire yawns. Still, to the credit of Scottevest founder Scott Jordan, his company's implementation of the ubiquitous trousers/shorts combo deserves a closer look--preferably by X-ray (see below). Why? Because Scottevest's clothing designers breed pockets the way a mama and papa mus musculus breed mice.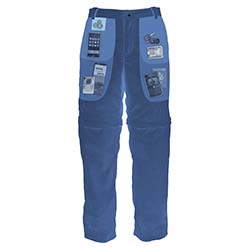 SeV Convertible Travel Pants have a whopping 10 pockets, including:
Two zippered back pockets.

Two handwarmer pockets with magnetic closures.

A zippered side-seam pocket.

Divided deep cargo pockets (in effect, two cargo pockets on each side).

A tiny "ChangeStopper" pocket inside the waistband to keep coins from going astray. (Alternatively, you could use that pocket for an iPod Nano and store your change in the deep recesses of the side cargo pockets.)
In keeping with Scottevest's "Technology Enabled Clothing" and "Personal Area Network" themes, the trousers also have openings and elastic loops for earbud wires. Translation: You can stow a smartphone or MP3 player in the side or rear pockets and route the wires up through the waistband.
Colors and sizes:
SeV Convertible Travel Pants come in three colors--Black, Sandstone, and Bering Blue--and in even waist/inseam sizes from 30/30 to 42/34. The trousers are made of Teflon-treated nylon that resists dirt and stains.
Field-test results:
Since receiving a sample pair of SeV Convertible Travel Pants from Scottevest, I've worn the trousers repeatedly, with and without the zip-off lower legs. I've also washed the trousers by hand and machine, air-drying them as directed. The trousers have been comfortable to wear, easy to maintain, and loaded with more storage space than any other pair of pants in my closet.
Verdict: If you're in the market for many-pocketed, earbud-friendly nylon travel trousers that convert into shorts for warm weather, SeV Convertible Travel Pants should be on your short(s) list.
For more information, go to the SeV Convertible Travel Pants page at Scottevest.com.
---