Scottevest Expedition Jacket
Page 2
Continued from page 1
By Durant Imboden
More photos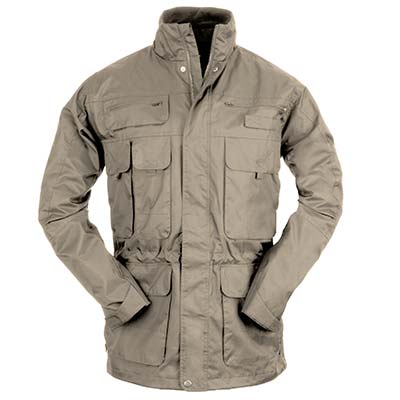 The SCOTTEVEST Expedition Jacket comes in two colors: charcoal grey and safari (tan).
The shell is sewn from a water-resistant and breathable Teflon-coated nylon fabric that has a crisp texture and a matte finish. The jacket is fully lined and machine-washable.
Other features include a drawstring waist, adjustable cuffs with Velcro closures, and magnetic closures at strategic points on the jacket.
---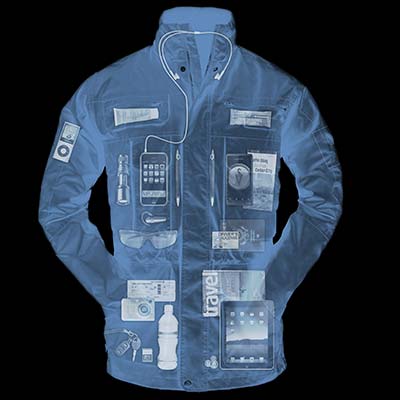 An X-ray view shows objects in some of the SeV Expedition Jacket's 37 exterior and interior pockets, which can carry everything from your passport to a smartphone, a digital camera, and an e-reader or iPad.
The jacket's "Personal Area Network" has channels for earbuds, and a "Weight Management System" keeps the jacket from looking lumpy or feeling unbalanced when it's filled with travel books and gear.
---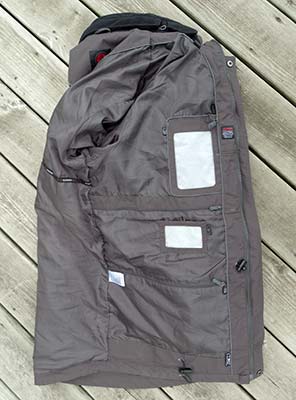 This photo of the SeV Expedition Jacket's interior shows, from top to bottom:
A large, clear pocket for your travel documents, with a pen sleeve alongside.

A clear card pocket, where you can put a business card or other ID.

A deep pocket (horizontal zipper above card pocket) that will hold a magazine, iPad, netbook, or Kindle.

A shallower pocket (horizontal zipper below card pocket) for a small guidebook or other paperback.
On the other side of the jacket's interior, you'll find another large "Clear Touch Fabric" pocket that lets you view and control the screen of your iPod or smartphone without removing it from the jacket. There's also a wide, shallow zipper pocket for maps and other miscellaneous items, with a second pen sleeve.
---
On the back of the jacket, you'll find two elasticized pockets for bottles (or possibly a travel umbrella) and a wide pocket with a Velcro flap that's large enough for a paperback book, gloves, etc.
Higher up, the shoulder yoke conceals a wide and deep zippered pocket where you could stow a hand towel, scarf, or spare t-shirt.
---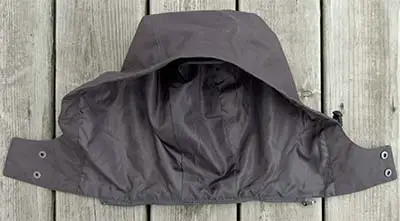 The removable hood attaches to the jacket with a zipper. Snap the collar closed, and you'll be protected from wind or rain. (The hood is cut generously, like a monk's hood. You can easily wear it over a stocking cap in chilly weather.)
More information:
Expedition Jacket Pocket Map (Interior and Exterior Views)
This two-page document from SCOTTEVEST is in PDF format.
Back to: SCOTTEVEST Expedition Jacket review - Page 1
---
---
---