Scottevest Performance T-Shirt
Product Review
by Durant Imboden
Last July, when I was sweltering in the humid summer heat of Venice and Croatia, I said to my wife: "If only I could buy a plain, high-quality t-shirt that would let sweat evaporate instead of getting soggy." (Yes, I do use alliteration in everyday life.)
After my return from the Adriatic, Scottevest sent me a sample of a t-shirt that would have been perfect for the trip. It's called the Scottevest Performance T-Shirt, and I wish I'd had it to wear under my ventilated photographer's vest last summer.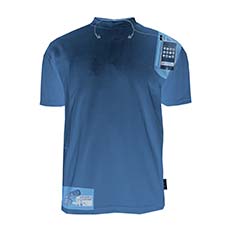 The shirt is just what the name implies: a t-shirt, plain and simple. Or maybe not so simple, because it incorporates:
A vertically-zippered chest pocket near the left shoulder, which will hold a smartphone or MP3 player.

A side-seam zipper pocket for keys, credit cards, and other small items. (Or maybe two pockets: Scottevest's Web site now shows a pair of side pockets on the Performance T-Shirt.)

Scottevest's "Personal Area Network," a system of interior openings and channels that lets you route wires from your smartphone or MP3 player to earbud loops in the shirt's collar.
The SeV Performance T-Shirt is made of "Huntsman High I.Q. Performance moisture-wicking fabric," which is another way of saying that it lets steam escape from your body instead of condensing in the shirt on hot days.
Styles and colors:
The SeV Performance T-Shirt is available with short or long sleeves in six colors (White, Smoke, Olive, Black, Blue, and Red). Sizing is relaxed, so if you like your t-shirts tight, you might want to go a size smaller than usual.
Field-test results:
I've worn the SeV Performance T-Shirt on many hot, humid days since returning to the U.S. from the Adriatic, and it's been more comfortable--and less soggy--than cotton t-shirts.
A note about washability: You can launder the shirt by hand or on a machine's delicate cycle, but it should not be machine-dried. Scottevest recommends drying the shirt on a flat surface, but I simply wrung it out and hung it on a hanger as I do with my other travel shirts, and it held up just fine. Drying took a couple of hours on hot days with low humidity and six to eight hours on more humid days.
Verdict: The SeV Performance T-Shirt isn't cheap, but if you need the pockets and want a high-quality travel t-shirt that's comfortable in hot weather and quicker to dry than cotton, see the Performance T-Shirt page at Scottevest.com.
---