Scottevest Travel Boxers 2.0
Product Review
by Durant imboden
On the packaging for SeV Travel Boxers 2.0, Scottevest--our favorite supplier of many-pocketed travel clothing--uses the tagline "Keep it in your shorts." Before you swoon or e-mail Scottevest founder Scott Jordan to complain about sexual innuendo, you need to know that "it" refers to an iPhone. The button-fly boxers have a pocket on the front that's just the right size for a typical smartphone, which is handy when you're walking around in your undies and don't want to miss a call.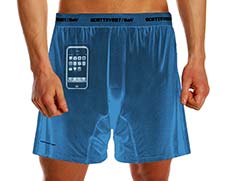 But the iPhone pocket is just one unique feature for underwear-obsessed male travelers. In the months since the X-ray image on the right was created, Scottevest has added a second pocket for a passport. (A few words of caution: If you're the sort of person who goes swimming in his boxers for lack of a bathing costume, please remove your iPhone and passport before you hit the surf.)
Fabric, construction, and maintenance:
SeV Travel Boxers are made of a black or grey synthetic fabric that, on close examination, looks like a honeycomb mesh. The fabric is comfortable in hot weather, resists odor, and dries quickly after hand- or machine-washing. (You'll need to dry the boxers on a clothesline or hanger, even if you wash them at a laundromat.)
Note:

During a rainy river cruise in Normandy, I noticed that the wide elastic waistband was still damp after hanging in the bathroom overnight. On the positive side, the waistband was more comfortable than the waistbands on my other travel underwear, since it wasn't prone to rolling.
Verdict: If you want to "keep it in your shorts" and can afford to pay US $20 for a pair of men's unmentionables, SeV Travel Boxers 2.0 are worth a look.
For more information, see the SeV Travel Boxers page at Scottevest.com.
---