Smoking in Europe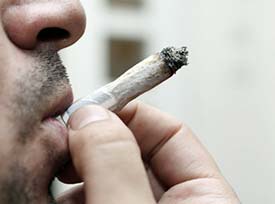 ABOVE: "Officer, it was weed, not tobacco!" isn't likely to carry much weight if you're cited for violating new European antismoking laws.
By Durant Imboden
It may be a cliché, but the popular image of Europeans puffing on Gauloises or Gitanes while lounging in sidewalk cafés isn't far from the truth--although the cigarettes dangling from those European lips are likely to have brand names like Marlboro, Winston, or Camel.
According to statistics gathered in 1994 by the European Bureau for Action on Smoking Prevention, about 43% of European men and 28% of European women smoke, compared to an estimated 25% of the adult U.S. population. Among Europeans from 25 to 39 years old, the rate jumps to 55% (men) and 40% (women)*.
What's more, Europe is said to have the highest per-capita consumption of cigarettes in the six World Health Organization regions, and the European Community is the second largest producer of cigarettes after China.
Now for the good news (or the bad news, if you're a smoker):
In recent years, EU countries have begun to enact stiffer anti-smoking laws. Ireland banned smoking in workplaces (including pubs and restaurants) in 2004, Italy followed with a law against indoor smoking in public places in 2005, and France began enforcing a similar law in January, 2008. Other Western European countries with smoking bans of varying severity include Belgium, Malta, the Netherlands, Norway, Scotland, Spain, and Sweden.
Some countries have been slower to jump on the anti-smoking bandwagon, but even Germany--the most significant holdout in Western Europe--is becoming more hostile to smokers with the enactment of a nationwide smoking ban on all forms of public transportation and state-by-state regulation of puffing in pubs, restaurants, and beer tents. (See Deutche Welle article in English.)
Note: A few airports, such as Madrid's Barajas and Iceland's Reykjavik, have installed kiosks for smokers that resemble glassed-in bus stops or isolation booths on old TV quiz shows.The kiosks have high-efficiency air filters or exhaust systems, and they let smokers puff away without annoying other travelers.
Photo copyright © Bulent Ince.