Tivoli Gardens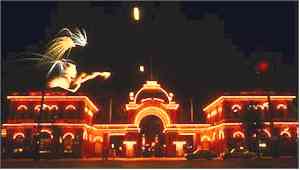 ABOVE: The main entrance to Tivoli at night. (Fireworks are by the Barfoed family, which has supplied pyrotechnics to the park for six generations.) INSET BELOW: Copenhagen's City Hall above Tivoli's treetops, and a couple enjoying an evening in the gardens.
By Durant Imboden

In a world where amusement parks spend millions on high-tech roller coasters and movie-theme rides, Copenhagen's Tivoli Gardens are a delightful anomaly: a park where you can enjoy carnival thrills, eat pølser sausages under the trees, swill øl in a beer garden, dine in an elegant restaurant, attend a symphony concert, enjoy free pantomime theatre, or sniff the 115,000 flowers that bloom during the park's season.
Tivoli opened in 1843, after a Danish architect named Georg Carstensen talked King Christian VIII into leasing him a site for a park modeled after the now-defunct Parisian Tivoli and Vauxhall Gardens in London.

Tivoli's charter required that 75% of the site had to be open space, and that rule--still observed--is one reason why Tivoli feels more like a public garden than a theme park. A buglike roller coaster whirls through the treetops; a Ferris wheel overlooks park benches and flower beds; small motorboats make circles on a scenic lake. While teenagers play games in video arcades, their younger siblings enjoy a clown show or wave at the costumed king and queen (both of whom are children) in the Tivoli Guard parade.
Business people wheel and deal over expense-account meals, and lovers cuddle on benches as 110,000 bulbs create a romantic glow from dusk until closing time.
Music is always popular at Tivoli. In Danish Quality Living: The Good Life Handbook, Ed Thomasson writes:
There is music everywhere. Some 150 concerts--in all genres, 100 free--are held in Tivoli Concert Hall and other stages roundabout during the 4-1/2-month park season. The concert hall, which has its own off-season entrance, is open year round. Here such greats as Sibelius, Stravinsky and Rachmaninoff have conducted their own works. Here Duke Ellington, Count Basie and Elton John have delighted their audiences. Tivoli's own symphony orchestra gives concerts all year, with well-known guest conductors and soloists. In fact the park invests over a quarter of its income in free events such as concerts, circus acts, pantomime performances and magnificent nightly fireworks displays.
For practical information and advice about Tivoli Gardens (including Web links), see page 2 of this article.
Next page: Tivoli visitor information
---
---
---
2nd inset photo copyright © Christian Alsing for Visit Copenhagen.