Europe > Czech Republic > Prague > AeroRooms Hotel
AeroRooms Prague Airport
Looking for a place to spend the night before an early-morning flight from Prague's Václav Havel Airport? Try AeroRooms, an affordable hotel within the airport terminals.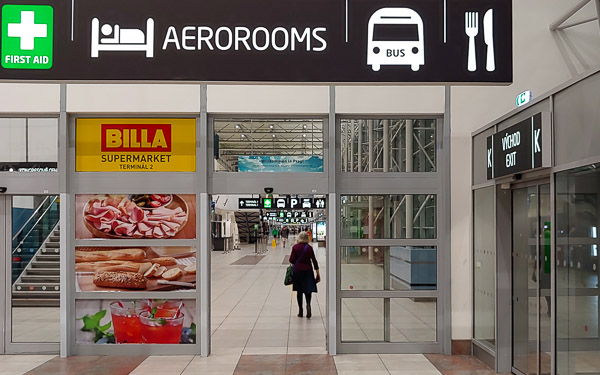 When my wife and I needed to catch a 6:05 a.m. flight from Prague's Václav Havel International Airport, it was obvious that we'd be better off spending our last night near the airport instead of in the city center. And we were delighted when we discovered that we could actually stay inside the airport, down a short hallway between Terminals 1 and 2.
Our hotel for the night was AeroRooms, which is accessible from both the transit (airside) and public (landside) areas of the airport.
The rooms are conventional hotel rooms (not pods or capsules), with full-size bathrooms, comfortable chairs, Wi-Fi, and TV. Rates are quite reasonable, and cribs for infants and toddlers are available for a modest fee.
The location of AeroRooms is perfect for a crack-of-dawn departure: It's about two minutes from the check-in counters of Terminal 1 (flights outside the Schengen Area) and Terminal 2 (Schengen Area flights).
Bottom line: We were satisfied with our stay at AeroRooms, and we think it's your best hotel option if you're departing from PRG at an early hour.
For more information (including guest reviews), or to reserve a room, visit our hotel partner's AeroRooms page.
Backup choice: If AeroRooms is fully booked, or, if you'd rather splurge on a full-service hotel that's within walking distance of the terminals, try the Courtyard by Marriott Prague Airport.
---
More photos: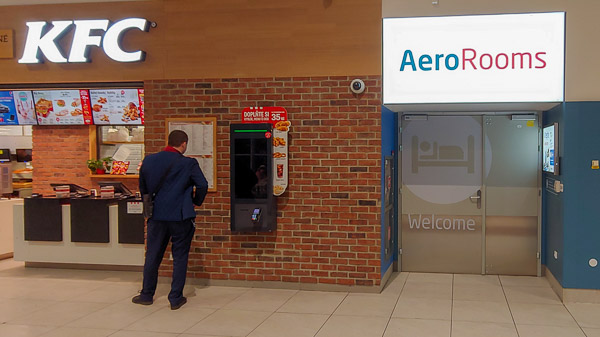 ABOVE: The landside entrance to AeroRooms is next to a KFC restaurant in the hallway between Terminals 1 and 2. (We didn't try the less-used airside or transit side entrance, which is on the other side of airport security.)
---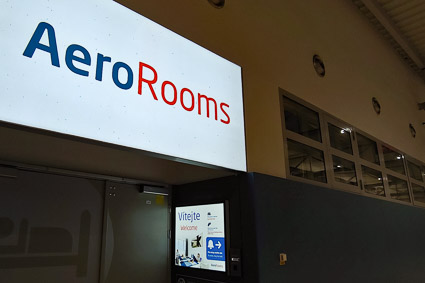 ABOVE:  Ring the doorbell next to the video screen, and the receptionist will let you in.

---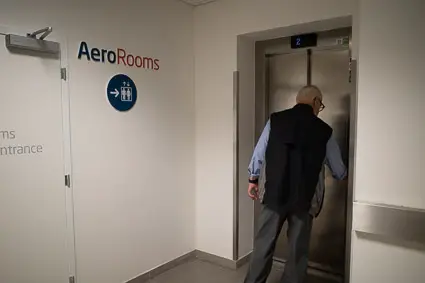 ABOVE: Inside the entrance, a corridor leads to an elevator. The reception desk is one flight up.
---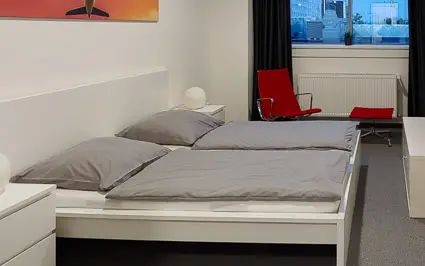 ABOVE: Our standard double room included comfortable twin beds with duvets, two chairs, an ottoman, a TV, and free Wi-Fi.
Note: When booking, you'll need to specify whether you want a room on the transit (airside) or public (landside) area. Unless you're flying into PRG late at night and catching a connecting flight in the morning, you'll probably want a room on the public side of the airport.
---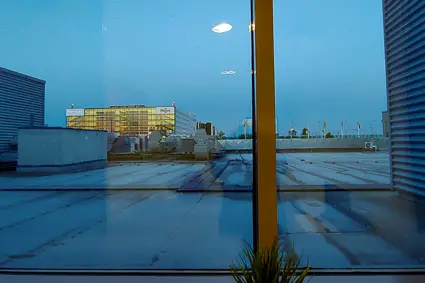 ABOVE: Our room had a large soundproof window with an airport view. (AeroRooms also has economy doubles without windows.)
---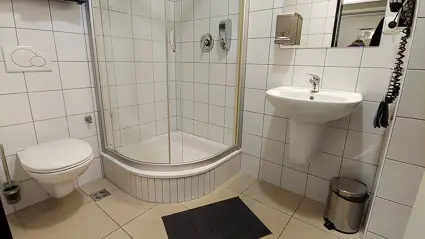 ABOVE: The bathroom was well-equipped with toilet, sink, shower,  wall-mounted hair dryer, thick towels, and dispensers for soap and body wash.
---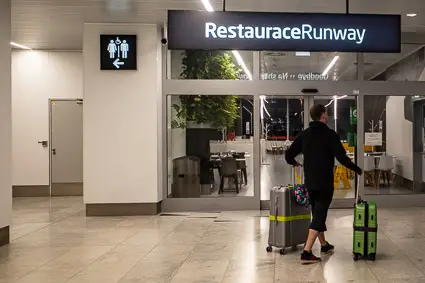 ABOVE: We'd eaten before arriving at AeroRooms, but we did check out the Runway Restaurant on the second level of the airport next to Terminal 2.
---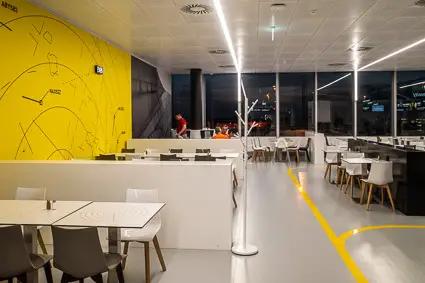 ABOVE: The Runway Restaurant is clean, well-lit, and cheerful, with a remarkably affordable menu of main dishes, side dishes, desserts, and drinks.
Other food options in the airport's public area include Kentucky Fried Chicken, a Pizza Hut Express, and a Billa supermarket. Restaurants in the public area are mostly open until 10 p.m., with the supermarket closing at 9 p.m. the last time we checked.
Finally, AeroRooms has a small refreshment area with vending machines for hot and cold drinks. The coffee machine dispenses free hot water, and you'll find a supply of instant coffee and teabags on the countertop.
---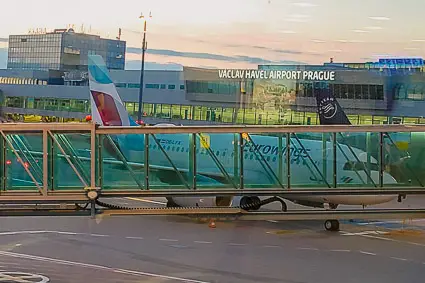 ABOVE: For more information about Prague Airport, including restaurants and other services, click here.
See Booking.com's AeroRooms page for more information about the hotel.
---