Europe > Czech Republic > Prague > Prague-Zličín train
Prague's Semmering Railway: Praha Hlavní Nádraží to Zličín
Enjoy an inexpensive 30-minute ride on a vintage KŽC railbus from Prague Central Station to Prague Zličin. After your excursion, you can return to the city center by tram.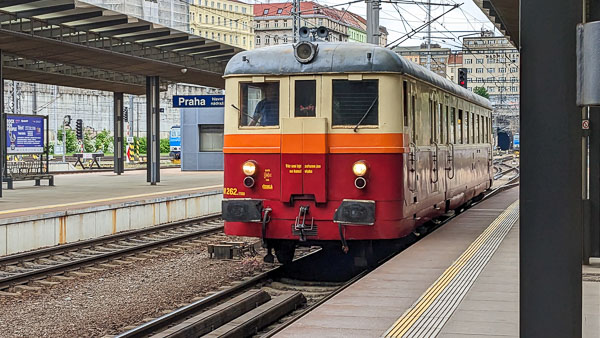 ABOVE: An historic KŽC vláček motoráček or electric railbus enters Prague's central train station, also known as Praha Hlavní Nádraží.
---
Historic trains are a staple of transit systems and rail museums in many of the world's cities, but the Czech capital of Prague adds an intriguing twist:
In partnership with a specialist railway company, KŽC Doprava, the Prague integrated transportation network offers a number of vintage trains in regularly scheduled service. You can ride a train from the Cold War era without having to book a tour or reserve a seat on a railfan excursion.
One such route is KŽC's vláček motoráček or railbus between Prague Central Station (Praha Hlavní Nádraží) and the Zličin station (Praha Zličin) in an outlying district of the city. The trip takes just over half an hour.
What you'll see: The train operates on the historic Semmering Railway, which will take you across a railroad bridge over the Vltava River and through scenic urban countryside that offers glimpses of new and old residential neighborhoods. (The mountainous rail line, named after Austria's Semmering Railway, has been designated a Czech cultural monument.)
Schedule: Vintage railbuses normally run four times a day in each direction on Saturdays, Sundays, and public holidays. Click here and scroll down on the linked KŽC page for a timetable in Czech.
Tickets: You can board the train with a normal 90-minute Prague transit ticket or buy your ticket from the conductor. Either way, the fare is cheap.
Accessibility: KŽC's historic trains are authentic, which means they aren't wheelchair-friendly. (We did manage to lift a child's stroller on board.)
Personal tip: We suggest taking the railbus from Prague Central Station to Zličin and returning to the city center by tram.
Below are captioned photos from our own railcar ride, followed by links to a Radio Prague International trip report and a YouTube video.
---
More photos: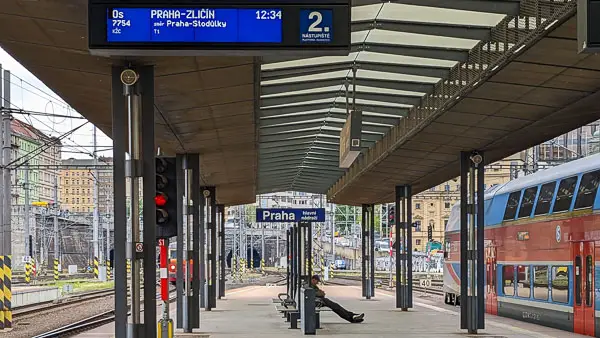 ABOVE: Our train hadn't yet arrived when we reached the platform at Praha Hlavní Nádraží, or Prague Central Station, just after noon on a Saturday. However, an electronic sign confirmed that we'd be departing from Track 2.
---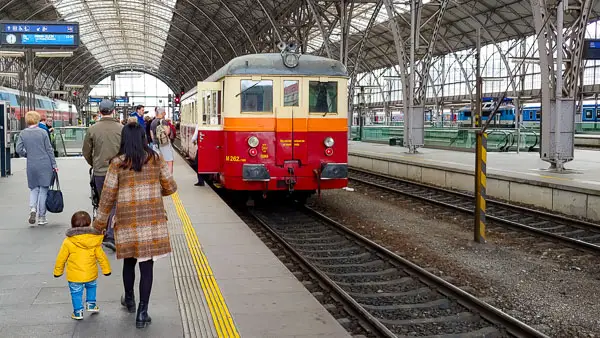 ABOVE: Soon, a vintage KŽC electric railbus arrived, and we boarded by the front door.
---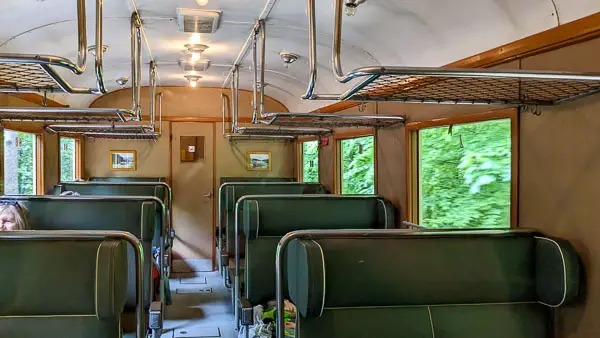 ABOVE: The car was divided into two compartments with bench-style seats in facing rows.
The train wasn't crowded, so we had plenty of room to park our grandson's stroller and settle in for a comfortable ride.
---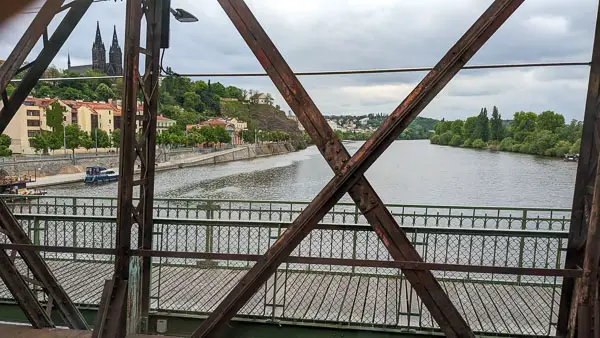 ABOVE: We departed promptly at 12:34 p.m. Our train soon crossed a railroad bridge over the Vltava River.
---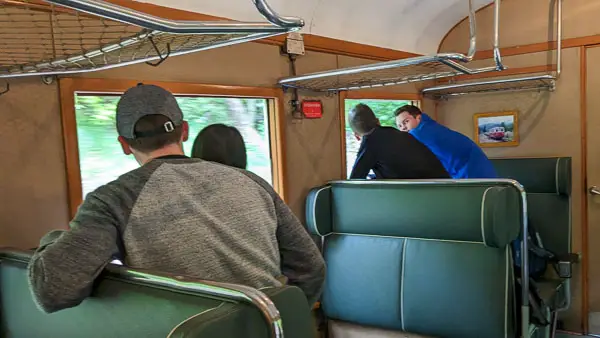 ABOVE: The 19-km or 12-mile route offered views of Prague and what could have passed for the Czech countryside, all within the city limits.
---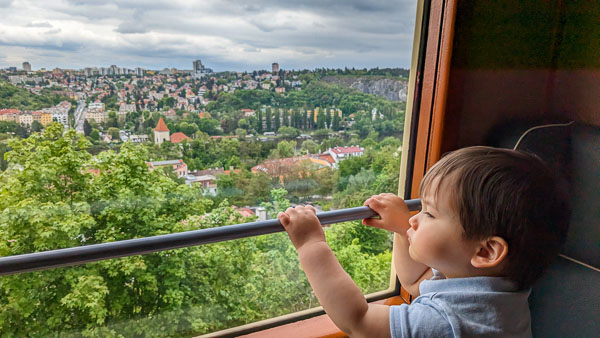 ABOVE: This view shows a residential neighborhood with a backdrop of Soviet-era "panel houses" and limestone bluffs.
The toddler is our grandson, who had mastered the art of photobombing at the age of 18 months.
---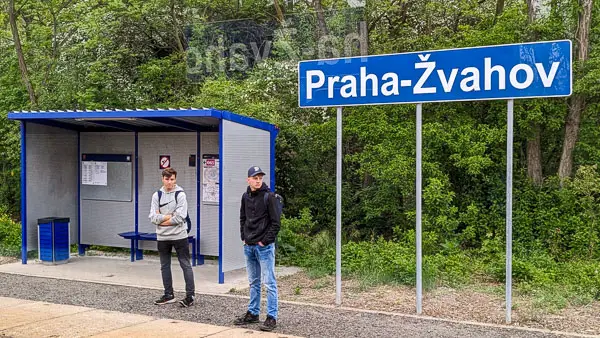 ABOVE: The Semmering Railway line isn't just for tourists and railfans: It also provides convenient transportation for residents. We saw people waiting for trains at stations along the route, and an older lady on our train got off at an intermediate stop with her grocery cart.
---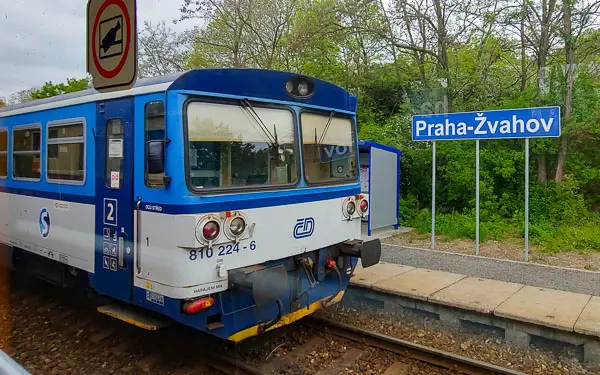 ABOVE: Rolling stock varies on the Praha hl.n.-Praha Zličin passenger route. Here, at an intermediate station, a diesel railcar in blue-and-white livery came from Zličin on its way to central Prague.
---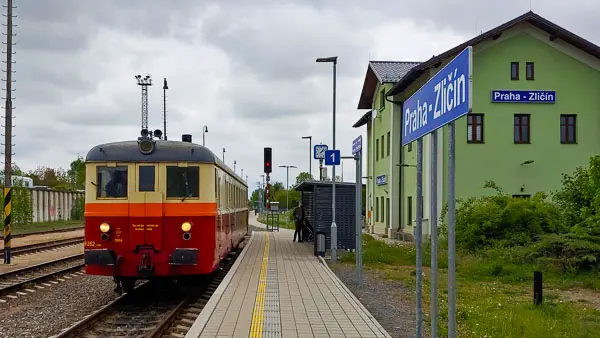 ABOVE: 32 minutes after leaving Hlavní Nádraží, our electric railbus arrived at the Praha Zličin railroad station.
---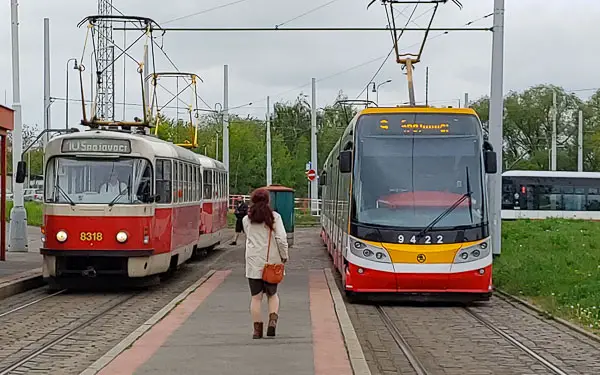 ABOVE: Our grandson's nap time was fast approaching, so we headed immediately for the transit center just beyond the train station.
The Number 9 tram took us back to the city center in 20 minutes, and we got to see more Prague residential neighborhoods along the way.
---
Also see:
The Prague Semmering: Scenic rail route still going 150 years later
This illustrated article from Radio Prague International covers the route and its history in detail.
Another site, Prague Now, also has an illustrated article about the railway.
YouTube Trip Report: Prague Semmering
Pete Brandy recorded this YouTube video of a wintertime ride on a diesel railbus. (KŽC's historic electric and/or diesel railbuses operate year-round between Prague Central Station and Prague Zličin.)
---
---