Europe > Czech Republic > Prague > Tramway maintenance
Tramway Maintenance in Prague
In a city of trams, DPP maintenance crews have track replacement down to a science.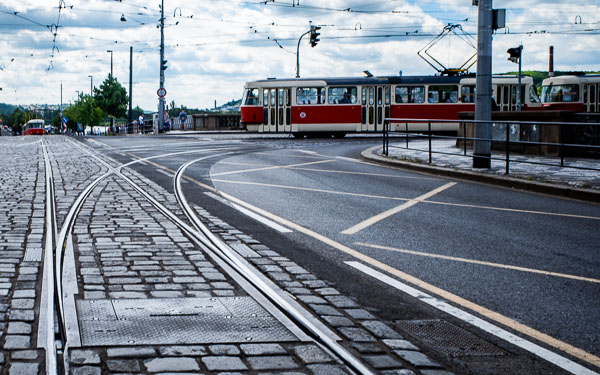 ---
Prague's tram network dates back to the late 19th Century, when the Electrical Enterprises of the City of Prague was founded to produce electricity and create a modern system of electric streetcars. (See the historical timeline of DPP, a.k.a. the Prague Public Transit Company.)
Over the last 125 years, the DPP and its predecessors have created the world's second-largest tram system, carrying some 375 million passengers per year.
All that streetcar traffic means plenty of wear and tear on the tracks--and to keep the trams operating safely, the DPP has what might best be described as "maintenance SWAT teams" that can rip out paving stones, tear up track, and replace all the working parts in  remarkably short time.
During a recent visit to Prague, we witnessed the replacement of track at the junction of Vitězná and Újezd, in the Malá Strana neighborhood on the west bank of the Vltava River.
The section being replaced carries trams of six different lines that cross the Legion Bridge, or Most Legií, one of the busiest bridges in central Prague.
The entire project was completed over a weekend. Below is a short photo essay about what we saw.
---
Track maintenance photos:
BELOW: On Day 1, heavy equipment arrived on Vitězná next to the street's intersection with Újezd.
(The trees in the background are on Petřín Hill, where you'll find a vast public park and the Petřín Funicular.)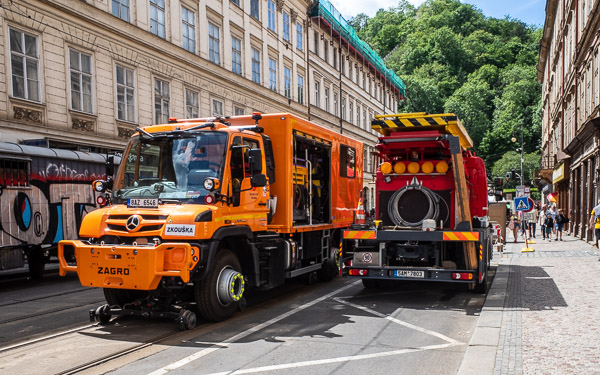 ---
BELOW: Workers pulled up paving stones, cut out sections of rail that needed replacement, and prepared the track bed for new rails.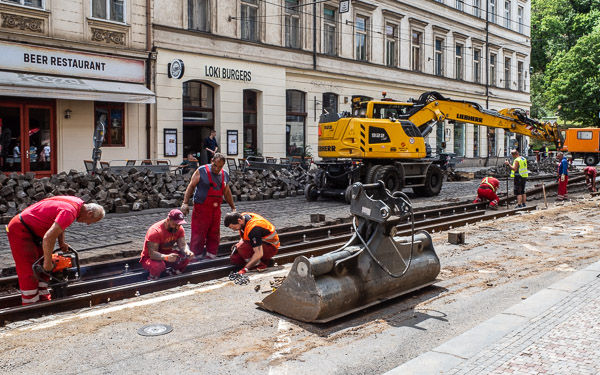 ---
BELOW: By early afternoon, much of the street had been reduced to rubble by the hardworking maintenance crew. (This photo was taken from the park, which has an entrance near the Újezd tram stop.)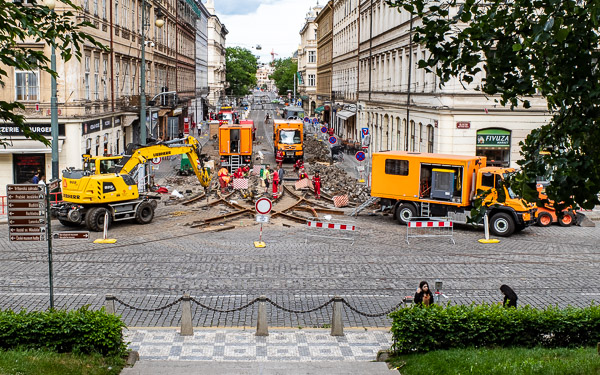 ---
BELOW: A large backhoe lifted and moved new steel rails over the track bed. Workers then guided the rails into place and used hand tools, such as crowbars, to fine-tune the installation.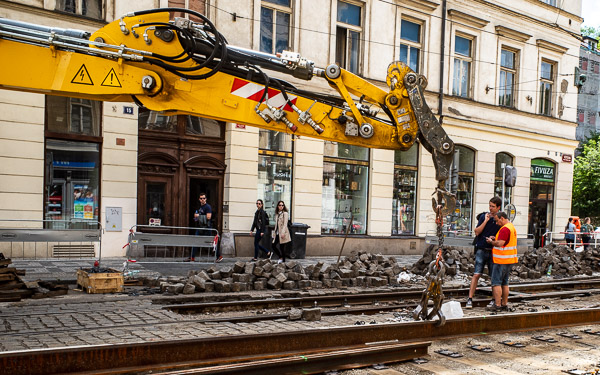 ---
BELOW: On the left in this photo, a maintenance technician uses an instrument to check the new track.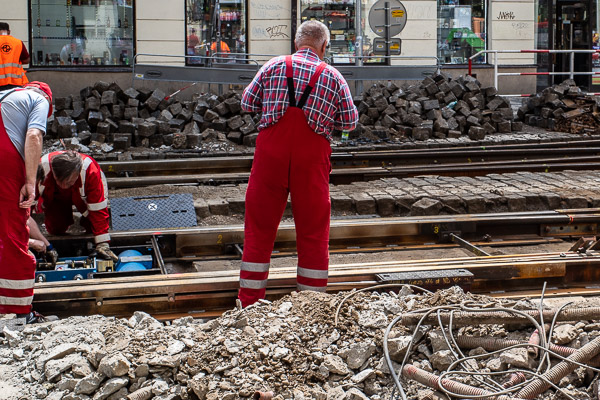 ---
BELOW: By late Sunday afternoon, the project's track repairs were mostly done, and the remaining workers focused on replacing cobblestones and cleaning up rubble.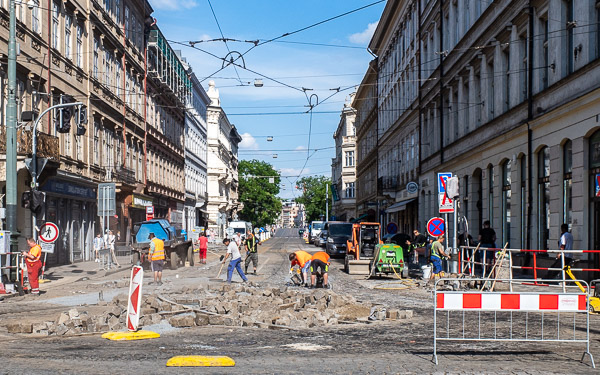 ---
---