Longyearbyen Photos
From: Longyearbyen, Spitsbergen, Svalbard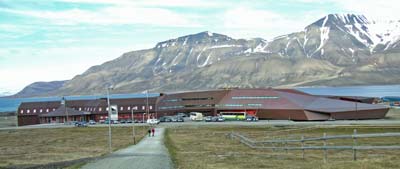 The Svalbard Museum moved to new quarters in the Svalbard Science Center in April, 2006. To reach the museum, walk from Longyearbyen's shopping district to the Radisson SAS Polar Hotel Spitsbergen, then continue down the road to the museum's entrance.
The museum shares a large, modern building with the Norwegian Polar Institute and UNIS (in English, the University Centre in Svalbard). UNIS, which belongs to the University of the Arctic, has about 100 undergraduate students and masters' candidates. It offers specialty courses in Arctic biology, geology, geophysics, and technology.
UNIS students are required to pass an "Arctic Survival and Safety" course that teaches such skills s snowmobile driving and the use of inflatable boats.