Europe > Portugal > Moving to Portugal Made Simple
Moving to Portugal Made Simple
James Cave, founder of Portugalist.com, has written the essential guide for prospective expats who dream of a life in Portugal.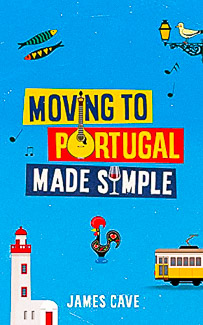 Portugal has long been touted as an expat destination (especially for retirees), thanks to a benign climate and a relatively low cost of living. According to one estimate, Portugal has a more than 900,000 foreign immigrants out of a population of 10.3 million.
 The country is especially popular with Britons, who have flocked to Portugal since Brexit. The Portuguese Chamber of Commerce counted 46,231 British residents within Portugal in late 2021, and Portuguese immigration statistics showed a 34 percent increase in UK expats from 2019 to 2020 alone.
(Most residents from the UK live in the Algarve, where expats are about 10 percent of the population, but there are also sizeable British communities in Lisbon and Porto.)
With so many English-speaking people settling in Portugal, there's a very real need for practical advice in English on how to choose a place to live, obtain residency, and navigate the complexities of home rentals, property buying, taxes, healthcare, and other issues.
Fortunately, James Cave--an on-and-off resident of Portugal since early childhood--has come to the rescue with a tremendously useful book, Moving to Portugal Made Simple. The book is complemented by Mr. Cave's Web site, Portugalist.com, which is billed as "everything you need to know about Portugal--from pastéis de nata to taxes and everything in between!"
(James Cave is also the co-author of a lively book about everyday life and culture in Germany, titled German Men Sit Down to Pee.)
---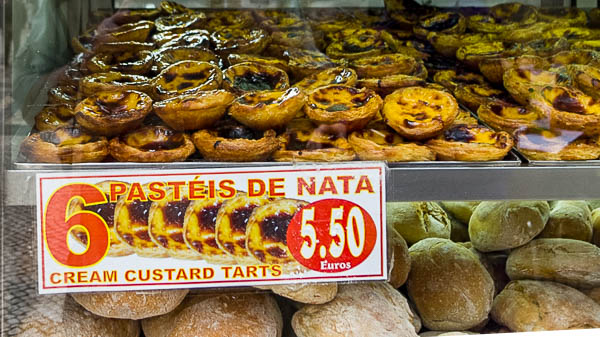 If you're a fan of baked goods, Portugal is the place to go.
---
What the book includes:
The 326-page book is divided into 11 parts, each with a variety of subsections:
Part 1, "Initial Research," includes topics such as:
Why Portugal?

The culture

The food

The wine

The coffee

The weather

Safety
Part 2, "Where Should You Move to?" discusses the country and its regions in depth:
Deciding on an area

Northern Portugal

Central Portugal

Lisbon City Centre

Nearby Lisbon

The Alentejo

The Algarve

The Azores

Madeira
Part 3, "Deeper Research," deals with practical issues that range from monthly expenses to employment, bureaucratic hassles, housing, schools, and finding your place in Portuguese society:
The NHR tax regime

The NIF

Bank accounts

Transferring money

Cars and public transport

Schools

Challenging aspects of life in Portugal
---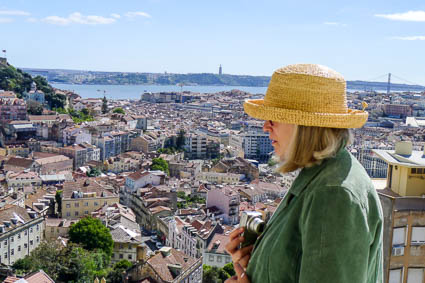 Find the right location in Lisbon, and you'll have the city and the Tagus River at your feet.
---
Part 4, "Scouting Trips and Trial Runs," prepares you for the vital step of in-person research:
The scouting trip

The trial run

Useful travel resources
Part 5, "Learning Portuguese," discusses the local lingo from a prospective expat's point of view:
How much Portuguese will I need?

Tips for learning Portuguese

Courses and resources
Part 6, "Obtaining Residency," is packed with information on residency requirements, visas, etc. (The good news for non-Europeans: "Portugal's residency visas are attainable, especially compared to other EU countries.")
What is residency?

Residency for EU/EEA/Swiss citizens

Residency for the rest of the world

Do I need a lawyer?

The D7 visa

The golden visa

The D2 (entrepreneurship visa)

The D6 visa [for family members]

Before you apply...

Half-in, half-out [staying as a tourist]
Part 7, "Making the move," is just what the title would imply.
What to bring

Shipping your belongings

Bringing your pets

Bringing your car
Part 8, "First steps in a new land," has details on how to settle in as a new resident:
Welcome to Portugal

Obtaining your número de utente [healthcare number]

Getting a NISS (Social Security Number}

Exchanging your driving license

Making new friends

Getting a mobile number

Utilities

Buying a car

Internet

TV

Grocery shopping

Other shops

Online shopping

Pets

Making a will
Part 9, "Renting a property," points out that "mostpeople rent when they move to Portugal, even if it's just for the first few months while they get settled." Subtopics include:
Renting in Portugal
Where to find rentals

House shares

Contracts

Deposits
---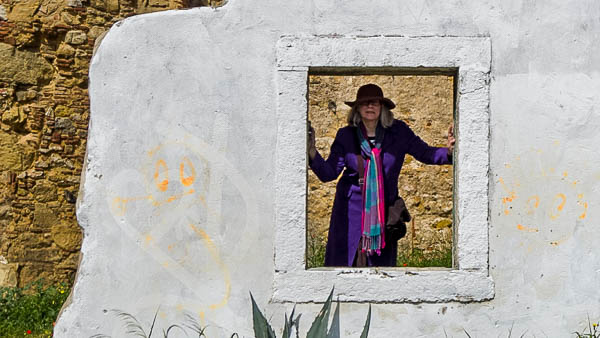 ---
Part 10, "Buying a property," will help you avoid pitfalls when you're ready to settle down with your own apartment or house:
A place to really call home

Challenges of buying in Portugal

Suggested timeline

Initial research

Rentals and holiday homes

Building and renovating

Working out your budget

Getting a mortgage

Lawyers and other services

Making a property wish list

Viewing properties

Additional viewings

Arranging an inspection

Raising issues

Making an offer

The promissory contract

Pre-signing

Signing the deeds

Next steps

Selling up
Part 11, "Permanent Residency & Portuguese Citizenship," is for expats who want to settle in Portugal for good. Subtopics include:
Obtaining permanent residency

Obtaining Portuguese citizenship

Leaving Portugal
---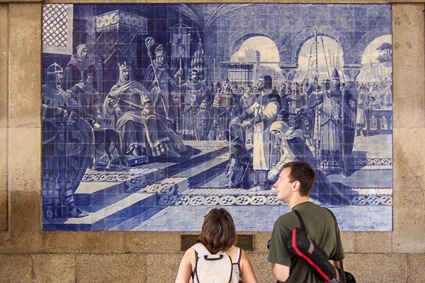 Azulejo tiles decorate a wall in Porto's central train station. (Porto is Portugal's second-largest city and has a thriving expat community.)
---
Part 12, "Next Steps," is the author's farewell and call to action. (If you've read that far, you're probably sold on the idea of Portuguese residency or at least a long-term sojourn.)
More about the book:
The outline above just scratches the surface of what you'll find in Moving to Portugal Made Simple. Here just a few random examples of things that I learned from reading James Cave's book:
Sometimes, buying a plot of land with an existing ruin, such as a tumbled-down cottage, will allow you to renovate or build without planning permission from the local council. (But not always, so check before you buy!)

When renting in Portugal, it can be hard to find a landlord who'll offer a written lease agreement, because many landlords prefer to hide their earnings from the tax authorities.
In apartments or urban areas, you're allowed to have up to three dogs or four cats (or even six pets, if you can get permission from the local town hall).

Some areas of Portugal have become hotbeds for international freelancers and other digital nomads, thanks to fiber broadband and free Wi-Fi.

Even in the sunny Algarve, winters in Portugal can be cold indoors due to a lack of central heating. (Tip: Bring sweaters, use space heaters, and buy a dehumidifier to prevent mold.)
The bottom line:
If you're even half serious about moving to Portugal as a retiree, employee, business owner, or "digital nomad"--or even if you're merely thinking of buying property in Portugal--James Cave's Moving to Portugal Made Simple is an essential handbook.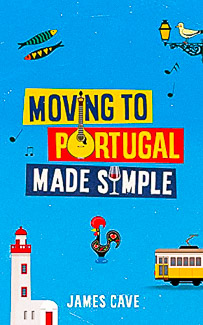 You'll find the book on Amazon in two formats: Kindle e-book and paperback. See the book's Amazon.com page, visit the Amazon.co.uk page if you live in the United Kingdom, or search on "Moving to Portugal Made Simple" at sites such as Amazon.de, Amazon.fr, and Amazon.it.
While you're at it, take time to visit James Cave's helpful site for travelers and prospective expats, Portugalist.com.
Portugal photos copyright ©  Durant Imboden.
---