The Alhambra
Granada, Andalucia, Spain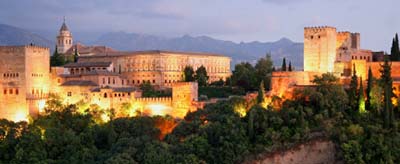 ABOVE: A twilight view of the Alhambra, with the Palace of Charles V behind the Moorish fortress. INSET BELOW: Another view, showing the snowcapped Sierra Madre mountains.
By Anders Imboden

Sitting atop a hill overlooking the gorgeous southern Spanish city of Granada, the Alhambra is one of Europe's most stunning and unique landmarks. The ancient Moorish fortress, along with the immediately neighboring Generalife estate and Albayzín neighborhood, make up a UNESCO World Heritage Site that is one of the world's greatest examples of Arab architecture outside of the Middle East.
The Alhambra, which gets its name from the red clay walls surrounding it, was built to house the Muslim ruler Mohammed ibn Nasr in the 13th Century during the time of the Moorish occupation of Spain. Instead of being wholly defensive, the fortress actually is more of a small town and collection of palaces. While perhaps impractical in the long run--Christian armies captured the Alhambra in the late 15th Century--the fortress and its gardens survive as a world-famous monument and tourist attraction, drawing thousands of appreciative visitors every day.
Next page: Inside the Alhambra and the Generalife
---
---

Anders Imboden has written other articles for Europeforvisitors.com, including a story about Madrid's Retiro Park, tips for a Dublin Weekend, and a report on attending a football match at Sunderland's Stadium of Light as a London Arsenal fan.
Top photo copyright © Christina Hanck.
Inset photo copyright © David Pedre.
Author photo copyright © Heather Magers Keefe.