Weekend in Dublin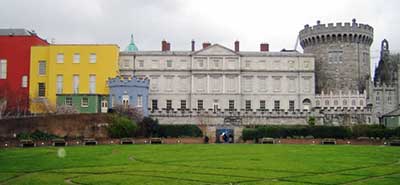 ABOVE: Dublin Castle offers guided tours of the State Apartments, Undercroft, and Chapel Royal.
By Anders Imboden

A couple of nights in one of Europe's most famous capitals might seem hardly worth the trouble. However, for travelers already in the British Isles or Western Europe, a short stop in Dublin is well worth considering.

Even in just a few days, visitors are able to see a wealth of attractions, enjoy the local culture, and of course, relax over a pint of Guinness or many other fine local brews. And with budget airlines like RyanAir and Aer Lingus still expanding, a short city-break to Europe's emerald city can cost you less than a meal at a nice restaurant.
What to see and do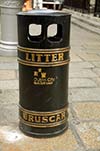 Dublin's most central and historic area is Temple Bar, located on the south side of the River Liffey, which cuts through the middle of the city. This is the most tourist-oriented part of town, but its charm is legitimate: the cobblestone roads, still in their original medieval arrangement, usher visitors by centuries-old stone and brick buildings.
Cafés, pubs, and restaurants abound, and the convenient location makes a walk through the area a must for any visitor. A warning, though: Temple Bar is also the hub of Dublin's nightlife, so if you're more of a teetotaler than a tippler, you may want to steer clear of the area in the wee hours.

Ireland's deep Christian heritage is well-known, and its most famous churches are well worth a visit. You might start with Christ Church Cathedral, the seat of the Anglican Archbishop of Ireland. Parts of the building date back to the 11th century, though it has undergone a number of expansions, renovations, and restorations in the years since. Definitely worth seeing is the recently renovated crypt, which is the largest of any cathedral in the British Isles.

Dublin's other medieval cathedral is the Roman Catholic St. Patrick's Cathedral, which also serves as Ireland's National Cathedral and is the country's biggest church. Any layman will appreciate the architecture and history in either cathedral, and both are worth the admission fee (around €5 for adults, free for prayer and services).
I had the good luck to be visiting Christ Church Cathedral on the Epiphany holiday, and I attended the evening service with my more ecclesiastically-inclined traveling partner--something I would highly recommend, given the opportunity.

If you prefer a pint to the communion wine, then you should visit the Guinness Storehouse, home of the legendary brew. It's not cheap (€14 for adults), but there are seven levels of activities and exhibits, culminating in a complimentary pint in the top-floor Gravity Bar, which features a 360-degree panoramic view of Dublin.

There are plenty more attractions in Dublin within the city center. Trinity College Library displays the Book of Kells, a 9th century manuscript compiled by Celtic monks. The school's campus is also quite beautiful and worth exploring. Dublin Castle (see photo at top of page) is a bizarre-looking collection of historical structures halfway between Christ Church Cathedral and Trinity College.

Grafton Street is a bustling pedestrian corridor known for its shops and cafés. On the other side of the River Liffey is the world-famous Abbey Theatre, along with plenty more shops and cafés.
If this all seems daunting, don't worry: These attractions are within walking distance of each other. One of Dublin's perks is its compact city center. Bus and tram service are excellent as well.
Next page: Getting to and from Dublin
---
---

About the author:
Anders Imboden researched this article while studying Politics at the University of Edinburgh and Scottish Premier League football at Maltings International.
---