English Football
Page 2
Continued from page 1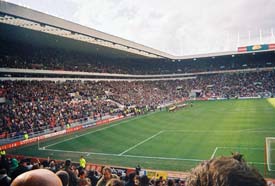 ABOVE: The pitch in Sunderland's Stadium of Light, which opened in 1997 and has a capacity of 49,00.
A trip to Sunderland
I wanted to see Arsenal, and after investigating the schedule, it became clear my options were limited by geography. Being in Scotland meant a long trip to any match. Ultimately I decided on a journey to Sunderland, an industrial city neighboring the northern metropolis of Newcastle, not far from the Scottish border.
Sunderland finished in last place that year, with the worst record in Premiership history. However, their fans were dedicated and the Stadium of Light was filled to its capacity of around 45,000. It was an amazing sight – so many people paying around £30 to come out, in spite of the inevitable Arsenal victory. Sure enough, ninety minutes passed and the final score line was 3-0 to the Gunners.
The quality of the game itself was so-so, but if you're only interested in what's happening on the field, you're best off watching at home. The atmosphere was phenomenal. Sunderland's fans were great sports, even if they were witnessing a mediocre Arsenal side give their team a thumping. They chanted, cheered, and sang their hearts out: the catchy tune of "We are shit and we still turn up" was only bested by a charming rendition of Monty Python's "Always Look on the Bright Side of Life."
Beer flowed in the halls of the stadium and certainly in the pubs nearby, but I observed no flashes of the hooliganism and drunken violence which are sometimes associated with English football. The experience was completely positive, in fact. The game's atmosphere was still edgier than most mainstream American sports, yet simultaneously I'd feel comfortable bringing anyone along. And if I hadn't had to be at class the next morning back in Edinburgh, I'm certain the day could have only gotten better, as fans of both teams poured into nearby pubs and restaurants.
Ultimately, my day trip to Sunderland was an amazing experience. While the worst team in the Premiership might not beget an overwhelming display of athletic prowess and physical aptitude comparable to that of the Brazilian national team, it's not just about two sets of men kicking a ball around. It's about stepping into a stadium full of football fanatics and enjoying a couple hours of singing, shouting, cheering, jeering, and generally forgetting that you're a grown adult.
Next page: Practical advice, precautions, and links
---
---
Text and photos copyright © Anders Imboden. All rights reserved.