Arcopédico L19 Booties
Product Review
These ultra-lightweight women's boots are squishy for easy packing, with enough comfort and arch support for all-day walking in Paris, Porto, or Prague.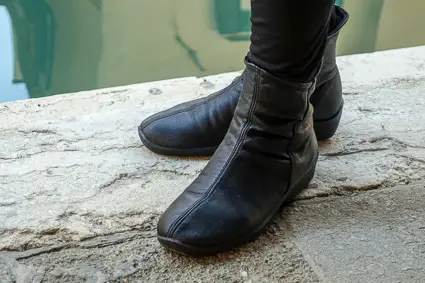 Cheryl, my wife and editorial partner, always travels with more than one pair of shoes. Now, thanks to Arcopédico, she can travel with more than one pair of boots as well: The Portuguese company's L19 booties are lightweight and flexible enough to pack into the corner of a suitcase, yet they provide enough foot support for long days of sightseeing on the streets and sidewalks of Europe.
The boots (which Cheryl field-tested during winter walks in two Northern cities) are made of a "breathable, vegan, and machine-washable" material called Lytech, with a molded sole that, in Cheryl's words, offers "good road feel" and decent slip resistance on wet pavement or packed snow.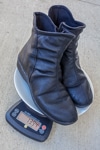 The sole incorporates Arcopédico's "double arch support." We're not sure what that means, but Cheryl has definitely enjoyed the support provided by the footbed. She's also impressed by the booties' remarkably light weight: The L19s weigh less than 7 ounces or 200 grams per shoe, as measured on our digital kitchen scale.
But enough of my blathering. Here's what Cheryl has to say about the Arcopédico L19 booties:
"The Arcopédico booties are great for travel. They're amazingly light, and they don't take up much room in my suitcase.
"The L19s were very comfortable right from the start. I wore them all over Seattle, from Pike Place Market down to Pioneer Square and the International District. I also wore them during long walks in Seattle's Ballard neighborhood. I never had any blisters or rubbing on my toes--never, not even when descending steep hills in downtown Seattle. I felt like I was wearing slippers.
"Great arch support made walking long distances very comfortable. Having suffered from plantar fasciitis in the past, I find that good arch support is very important.
"I probably should have requested a smaller size--European size 39 instead of 40, which is the size I normally wear. Wearing a pair of heavy socks took care of the fit issue and filled out the portion of the toe that looked slightly sunken (there's no rigidity in the toe area, and the boot material is quite soft and flexible).
 "The lack of rigidity makes the boots amazingly comfortable, though the L19s probably wouldn't be my choice for a travel day where I might have something or someone landing on my toes. But the booties are great as an extra pair of travel shoes, since they're comfortable, lightweight, and packable. They're also supposed to be machine-washable, although I haven't need to wash them yet."
Other thoughts from Cheryl:
"I didn't have any problems with getting my feet soaked in the Seattle rains, but the booties weren't tested in a downpour.
"They seemed fine on soft ice and snow in Minneapolis after our return from Seattle.
"The booties don't have a lot of lateral support, but that hasn't been a problem.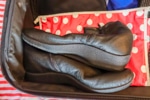 "I'll definitely be packing the Arcopédico L19 booties for our next extended trip in Europe. It'll be very easy to justify the space they take in my suitcase--and that certainly can't be said about most boots."
Update from Venice, Italy: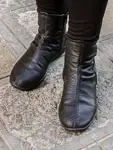 Cheryl has been wearing the Arcopédico L19 booties in Venice, Italy, mostly on paving stones but also on brick paving, flgstones, and grass.
The booties have been consistently comfortable, and they've offered a relaxing break from her heavier leather boots (which are less flexible than the Arcopédico booties and rub at times).
About Arcopédico:
Ropar, the company that makes Arcopédico shoes, was founded in 1966 by an Italian scientist and inventor, Professor Elio Parodi.
Professor Parodi had developed a new system of arch support that was lighter, more flexible, and better adapted to feet of different shapes than other shoes of the time.
Arcopédico shoes and boots are still manufactured in Portugal under the supervision of the founder's son, Enrico Parodi, who is now the CEO of Ropar.

For more information:
Arcopédico products are available at retailers in many countries (including the company's own stores), from online vendors such as Zappos and Amazon, or directly from the Arcopédico  Web site. To browse or shop, visit:
Disclosure:
This is an editorial product review, not "sponsored content." We did not receive payment from Arcopédico, and we earn no referral fees or commissions.