Thalys
Page 4
Continued from page 3
By Durant Imboden
More Thalys photos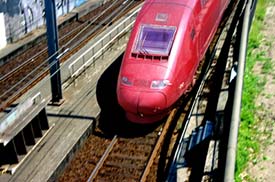 Christiaan van Elzelingen's photo shows a Thalys train in the Rotterdam station. This is a Thalys PBKA locomotive, which can take electricity from the railway grids of France, Belgium, the Netherlands, and Germany. The cab electronics are compatible with seven different signalling systems.
---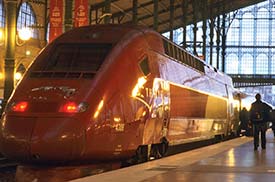 In this picture by Martin Kers, a Thalys train collects passengers in Brussels. (Some trains on the Paris-Brussels route continue north to Amsterdam, while others continue east toward Cologne, Germany.)
---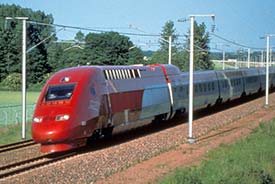 Thalys locomotives are noticeably taller than the passenger cars behind them, which are the same in all trainsets.
---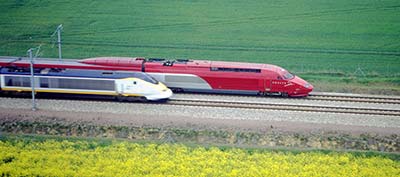 This panoramic photo shows a Eurostar train speeding alongside Thalys in France. The red Thalys locomotive is of the TGV-based PBA type, which operates on three voltages, has four signalling systems, and runs exclusively on the Paris-Brussels-Amsterdam route.
---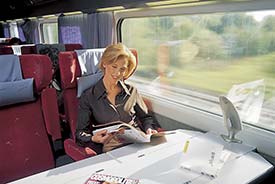 "Club-4" and "Club-2" are the names for table seating in Comfort 1 (first-class) cars. Normal seat pairs are called "Duo" seats.
---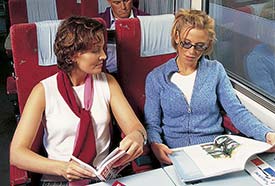 These women share a table in Comfort 2, or second class.
---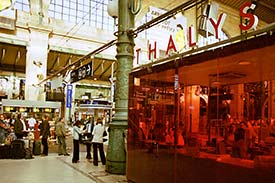 The Gare du Nord in Paris has a Thalys information booth right next to the platforms.
Back to: Thalys - Introduction
---
---
---
Top photo copyright © Christiaan van Elzelingen.
Photo 2 copyright © Martin Kers for Eurail Group.
Photos 3-7 copyright © Eurail Group.