Europe > Transportation > Rail travel > Thalys
Thalys
High-speed trains in France, Belgium, the Netherlands, and Germany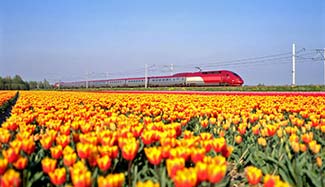 ABOVE: A Thalys train races past tulip fields in the Netherlands. INSET BELOW: A Thalys train and car attendant await passengers in Paris Gare du Nord.
By Durant Imboden
Thalys is a high-speed train network that connects the cities of Paris, Brussels, Amsterdam, and Cologne, with stops in cities such as Antwerp, Bruges, the Hague, Rotterdam, and Aachen.
Trains on the Paris-Amsterdam route also call at Amsterdam's Schiphol Airport. (A southern branch of the network connects Amsterdam, Brussels, and Northern France to the French Alps on weekends during the ski season.)
Train speeds reach 300 km/h (186 mph) on some segments, and travel times are short:
Less than 1Ĺ hours from Paris to Brussels

About 3Ĺ hours from Paris to Amsterdam

Less than 3Ĺ hours from Paris to Cologne
Thalys trains are operated by Thalys International, a cooperative venture of the French, Belgian, Dutch, and German national railways. The electric locomotives run on multiple voltages, making it possible for trains to cross borders without switching engines.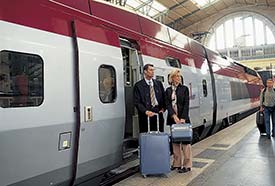 ABOVE: Travelers wait to board a Thalys train in the Gare du Nord, Paris.
Traveling on Thalys
Classes of travel
Each Thalys train has three first-clas and four second-class cars, with a bar car between the two classes. These are open carriages (no separate compartments).
Comfort 1, or first class, consists mostly of 2 + 1 seating plus a "lounge area" in one car for business meetings. Your fare also includes breakfast, lunch, dinner, or a snack (served at your seat) with hot or cold drinks. Other perks include magazines and newspapers, electric sockets, free Wi-Fi, and a taxi-reservation service.
Comfort 2, or second class, has 2 + 2 seating. Sandwiches and other snacks are available for purchase in the Thalys Bar or at your seat, and you'll need to pay for Wi-Fi Internet access (except for Thalys sites, which are free).
In both classes, each car has a handful of facing seats with tables that are convenient for families, small groups, or cardplayers. The official Thalys Web site (see link below) has train diagrams with detailed seating plans.
If you're traveling with young children in Comfort 2 (second class), try to book seats in one of the "Kids' Square" compartments (cars 6, 16, 26 and 7, 17, 27). These are close to a WC and a Baby Station with changing table, washbasin, and bottle warmer in car 7, 17, or 27.
Passengers with wheelchairs can book Seat H25 in Comfort 1 car 1, 11, or 21, which has a wheelchair-accessible WC nearby.
Luggage
You're limited to three pieces of luggage, and you can store bags in three places: on luggage racks near the doors, between back-to-back seats, or in the overhead luggage racks.
Bags must be labeled or tagged for security reasons. For more details, see the official Thalys Web site (link on next page).
Note: Luggage space is limited (especially in Comfort 2 class), and the overhead racks can be hard to reach if you're short or lacking in strength. If you want to stow your bags on the racks near the doors, try to be one of the first passengers to board.
Tickets and seat reservations
You can buy tickets at any railroad station with an international ticket window, through European travel agencies, or--better yet--on the Internet from the Thalys Web site (see link on next page).
Rail passes
You can travel on Thalys with a rail pass from Eurail or InterRail, as long as your pass is valid for all of the countries in your journey. However, you'll need to pay a reservation fee, and seats for railpass holders are capacity-controlled. (Normally, you can reserve seats through your railpass vendor, but it's often cheaper to make reservations at the service window of a train station.)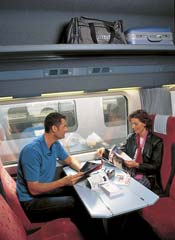 ABOVE: Some seats have tables. (Such seats are identified on the Thalys carriage diagrams.)
Thalys Web links
Thalys
The official Thalys Web site has timetables, fares, a booking engine, and a "Practical Travel Guide" with everything you need to know about your trip.
Wikipedia: Thalys
The online encyclopedia describes the Thalys network's history, routes, rolling stock, and related topics.
---
More Thalys photos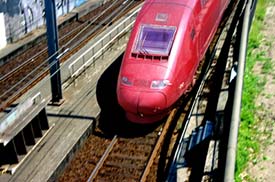 Christiaan van Elzelingen's photo shows a Thalys train in the Rotterdam station. This is a Thalys PBKA locomotive, which can take electricity from the railway grids of France, Belgium, the Netherlands, and Germany. The cab electronics are compatible with seven different signalling systems.
---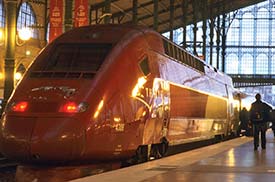 In this picture by Martin Kers, a Thalys train collects passengers in Brussels. (Some trains on the Paris-Brussels route continue north to Amsterdam, while others continue east toward Cologne, Germany.)
---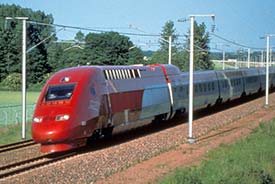 Thalys locomotives are noticeably taller than the passenger cars behind them, which are the same in all trainsets.
---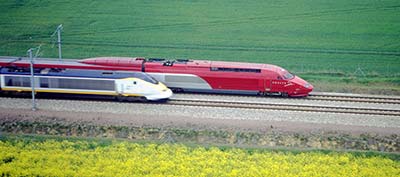 This panoramic photo shows a Eurostar train speeding alongside Thalys in France. The red Thalys locomotive is of the TGV-based PBA type, which operates on three voltages, has four signalling systems, and runs exclusively on the Paris-Brussels-Amsterdam route.
---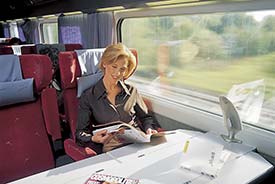 "Club-4" and "Club-2" are the names for table seating in Comfort 1 (first-class) cars. Normal seat pairs are called "Duo" seats.
---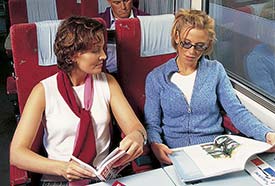 These women share a table in Comfort 2, or second class.
---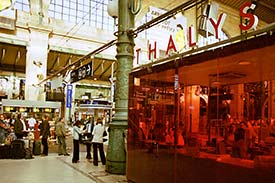 The Gare du Nord in Paris has a Thalys information booth right next to the platforms.
---
---
Top photo copyright © Rail Europe.
Inset photo copyright © Eurail Group.
Photo 5 copyright © Christiaan van Elzelingen.
Photo 6 copyright © Martin Kers for Eurail Group.
Other photos copyright © Eurail Group.