Thalys
High-speed trains in France, Belgium, the Netherlands, and Germany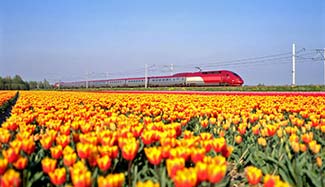 ABOVE: A Thalys train races past tulip fields in the Netherlands. INSET BELOW: A Thalys train and car attendant await passengers in Paris Gare du Nord.
By Durant Imboden
Thalys is a high-speed train network that connects the cities of Paris, Brussels, Amsterdam, and Cologne, with stops in cities such as Antwerp, Bruges, the Hague, Rotterdam, and Aachen. Trains on the Paris-Amsterdam route also call at Amsterdam's Schiphol Airport. (A southern branch of the network connects Amsterdam, Brussels, and Northern France to the French Alps on weekends during the ski season.)
Train speeds reach 300 km/h (186 mph) on some segments, and travel times are short:
Less than 1Ĺ hours from Paris to Brussels

About 3Ĺ hours from Paris to Amsterdam

Less than 3Ĺ hours from Paris to Cologne
Thalys trains are operated by Thalys International, a cooperative venture of the French, Belgian, Dutch, and German national railways. The electric locomotives run on multiple voltages, making it possible for trains to cross borders without switching engines.
In this article, we'll tell you how to buy tickets or use rail passes on Thalys and where to find both travel information and railfan resources on the Web. You'll also find a page of captioned photographs.
To plan your trip with Thalys, click on the link below:
Next page: Classes of travel, tickets, reservations, rail passes
---
---
---
Top photo copyright © Rail Europe.
Inset photo copyright © Eurail Group.