Europe > Germany > Research and Travel (R&T)
Routes to the Roots
Research and Travel (R&T) - Dr. Wolfgang Grams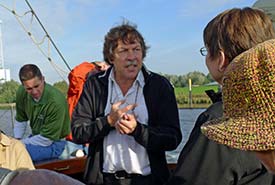 ABOVE: R&T's Dr. Wolfgang Grams discusses German emigration with a passenger on the Franzius, a replica of the cargo sailboats that once carried emigrants from Bremen to tall ships on the Baltic seacoast.
By Durant Imboden
Millions of Germans and Eastern Europeans emigrated to the Americas from the early 1700s onward. According to a Wikipedia article, about 51 million U.S. citizens--or 17 percent of the American population--classify themselves as being "German-American." Just as important, large numbers of emigrants from Poland, Russia, and other countries passed through German ports such as Hamburg, Cuxhaven, Bremen, and Bremerhaven on their way to the New World.
In recent years, emigration museums have sprung up around Germany, and the German National Tourist Office has created a "German Originality" Web site for foreigners and potential tourists who have "German in their genes." Heritage travel has become a big business that targets genealogy buffs, family historians, and foreigners who are simply curious to see where ancestors came from.
One of the more established businesses in the German heritage-travel niche is Research and Travel Dr. Grams (R&T), which began as a research project in migration studies at the University of Oldenburg, Germany. The project, which was headed by Dr. Wolfgang Grams, became a private institute in 1997.
Today, R&T offers services that include escorted heritage tours, customized group tours, private individual tours, and genealogical research for English-speaking visitors. For example, R&T can trace an ancestor's place of origin, provide documentation for your family records, and organize a trip to your ancestral home in Germany.
I haven't used the organization's services, but I did spend time with Dr. Grams on a Weser River boat and in Cuxhaven. He obviously knows his material, and if I were a visitor with German roots who wanted to know more about my ancestors, I'd trust Dr. Grams and his colleagues to put me in touch with my past.
For more information about Research and Travel Dr. Grams, visit www.routes.de.
---
---