Europe > Germany > Cars > VW "Transparent Factory" Dresden
Volkswagen's 'Transparent Factory'
Die Gläserne Manufaktur in Dresden, Germany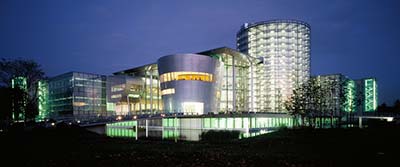 ABOVE: The Transparent Factory at night. INSET BELOW: A Phaeton body shell rides an overhead conveyor, and a finished car cruises through Dresden.
---
---
By Durant Imboden
Modern factories tend to be dreary places, with windowless walls of cinder block or sheet metal and open floor areas that can be switched from widget-making to doughnut-baking as the market and corporate takeovers dictate.

Volkswagen's "Transparent Factory" or Gläserne Manufaktur in Dresden is a notable exception to the rule: It's a place of beauty where small teams of workers assemble the Phaeton, Volkswagen's luxury car, in a purpose-built facility that looks more like a Scandinavian conference center than an industrial plant. (The architect, Dr. Gunter Henn, also designed Volkswagen's Autostadt in Wolfsburg.)
The Transparent Factory occupies an 8-.3-hectare or 20.5-acre site on Dresden's Strassburger Platz, next to the Botanical Gardens and within walking distance of the city center.
The glass-walled, L-shaped production facility is adjoined by a Studio where Phaeton buyers can choose options and materials for their custom-built cars and a Customer Lounge where they can pick up their finished vehicles.
A Visitors' Forum is open to the public for tours, concerts, and other events; it also has a Phaeton driving simulator and other exhibits. The Transparent Factory even has a café, bar, and restaurant.

At its heart, of course, the Transparent Factory is just what its name would suggest: a place to make automobiles. It was designed specifically to produce the Phaeton, Volkswagen's top-of-the-line luxury car.
Die Gläserne Manufaktur was--and remains--both an assembly plant and a showplace for the Phaeton concept, aesthetics, and technology. It's a fitting addition to a state (Saxony) that has a long industrial tradition and a city (Dresden) that is known for the beauty of its architecture.
---
Visiting the VW assembly plant in Dresden
ABOVE: One of two floors in the production area, where about 30 Phaetons are built each day.
There are two ways to visit the Transparent Factory:
1. Buy a Phaeton.
When you order a Phaeton from a Volkswagen dealer, the dealer can help you schedule a visit to the Studio in the Transparent Factory, where a customer manager will introduce you to fabrics, leather, wood veneers, paint colors, etc. that you can see, feel, and smell in person instead of relying on a swatchbook or catalog. Later, you can come back to watch your Phaeton being custom-built (final assembly takes two days) and to pick up your completed car. Alternatively, you can:
2. Book a public tour.
The Transparent Factory is open daily, except when special functions are on the calendar. The best time to visit is during production hours, when you can put on a white lab coat and be taken through the assembly area.
To learn more about public tours and admission fees, see the the factory's English-language Web pages (including the section on guided tours).
Tip:
After your Transparent Factory visit, go outside to the Am Strassburger Platz station of the Dresden Park Railway, which will take you on a 5.6-km (3½-mile) circuit of the Grosser Garten. And if a VW Phaeton is beyond your budget, you may want to tour Dresden via Trabi Safari in a restored Trabant (the East German minicar that was produced from 1957 until 1991).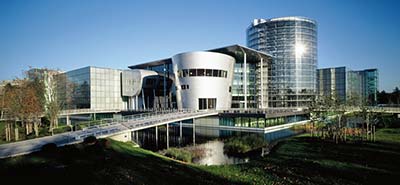 VW's "Transparent Factory" is located on the edge of downtown Dresden, Germany, next to the city's largest park.
Manufacturing takes place in the box-shaped building behind the inverted stainless-steel cone in the center of the photo.
The glass tower on the right is used to store completed Phaetons before delivery.
---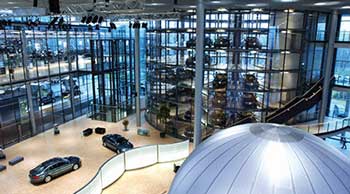 As you enter the Visitors' Forum, you'll see the car-storage tower, current Volkswagen Phaeton models, and a dome-shaped video theatre.
There's also a vintage touring car on display (a 1936 Horch, shown at right) that once belonged to the late Emperor Hailie Selassie of Ethiopia.
---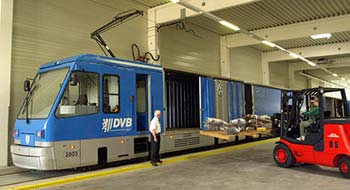 Engines and other prefabricated components arrive at the factory on two electric "CarGo" trams that were custom-built at a cost of about €1.8 million.
The trams use Dresden's municipal streetcar tracks to connect VW's "just in time" logistics center in Friedrichstadt, on the outskirts of Dresden, with the Transparent Factory.
Body shells arrive by truck from the Mosel body plant in Zwickau, because they're too big to fit on the trams.
---

Self-propelled, computer-controlled transporters carry each Phaeton's parts to the production area. (Barcode readers direct the transporters to the appropriate workstations.)
---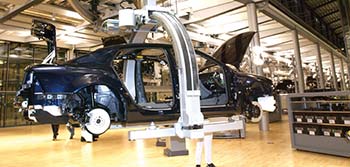 Production takes place on two floors of the multistory building, with an electric overhead railway to carry Phaetons between stations on the assembly lines.
Cars are custom-built, using a combination of hand work and specialized tools.
---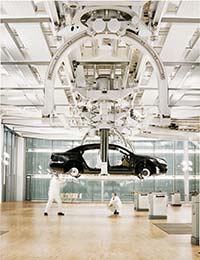 The assembly lines are made up of 29 moving floor sections. (The floor is sheathed in Canadian maple, giving it the look of an impeccably-maintained ballroom or basketball court.)
The floor creeps along at a speed of one meter per minute, with workers standing on the moving floor to remain stationary in relation to the cars.
---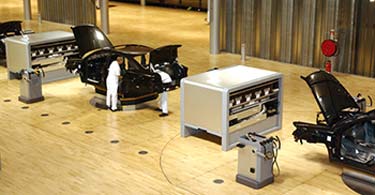 This slowly-moving assembly line is almost indistinguishable from the surrounding parquet floor, and the overall atmosphere is a cross between a car showroom and a high-tech workshop.
The large box-shaped bins in the photo are parts baskets with custom-delivered components for individual cars, while the small rectangular pillars house power tools.
---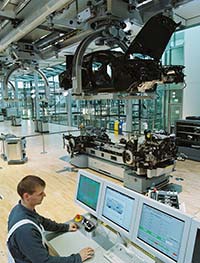 One of the most important steps in the production of an automobile is the "marriage" or "wedding," where the body is joined with the running gear.
The scene above shows one of only two robots in Volkswagen's Transparent Factory--the other is a device that mounts wheels on completed VW Phaetons.
---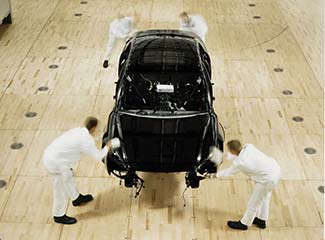 Volkswagen's "Transparent Factory" is small, as automotive assembly plants go: At the end of 2007, it had about 380 employees, including 210 production workers.
To be hired by Die Gläserne Manufaktur, prospective assembly technicians must be comfortable with the idea of being watched--and, in some cases, questioned--by VW customers and tourists.
Phaeton buyers often visit the plant to watch their cars being built, so it isn't unusual to see a couple following a car as it makes its way through the assembly process.
---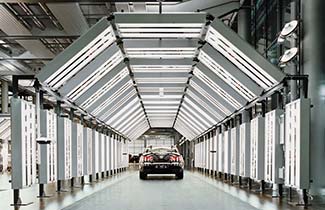 After final assembly and preparation, each Phaeton is transferred to to the factory's glass tower, where it will await delivery or pickup.
Random but interesting facts about the Phaeton:
Body shells are robot-welded at Volkswagen's Mosel plant in Zwickau, but they're painted by hand with up to seven layers of paint.
The Phaeton with the W-12 engine has a top speed of 310 km/h, or 194 mph., but most German buyers settle for the more economical V6 Diesel version, whose top speed is a mere 240 km/h or 150 mph.
About 30 percent of Phaeton customers buy the long-wheelbase model.
In Germany, Phaeton prices range from about 64 to 170 thousand euros, depending on whether the customer orders such niceties as a refrigerator.
---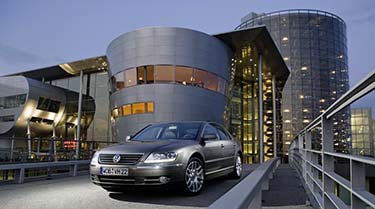 This Phaeton is on its way from the Transparent Factory to its new home...
---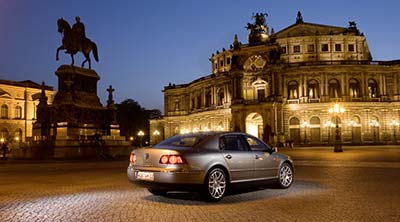 ...or possibly to the Semper Opera House in downtown Dresden, which is only a short drive from the Gläserne Manufaktur.
The Transparent Factory itself is a center for musical performances and other cultural events, which it frequently hosts when the machinery is at rest and the workers have gone home.
Photos copyright © Volkswagen AG.