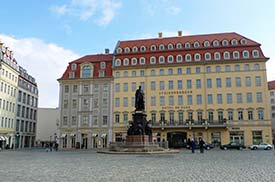 ABOVE: The Steigenberger Hotel de Saxe is on the Neumarkt, opposite the Frauenkirche. (A modern hotel lies behind the Baroque-style façade).
Hotels
Dresden has been on a building binge in recent years, and hotel chains can claim responsibility for many of the construction cranes that you'll see on the city's skyline.
Best Western, Dorint, Hilton, Holiday Inn, Ibis, Maritim, NH, Radisson SAS, Ramada, and Steigenberger are among the hotel groups that have planted their flags in Dresden, but you'll also find plenty of small, family-owned accommodations in and around the city.

For tourists, the Altstadt or Old Town is the most convenient (though not the cheapest) hotel location. The top sights and museums are within walking distance, the Hauptbahnhof or main railroad station (which serves the airport by S-Bahn) isn't far away, and shopping is close by.

Alternatively, you can look for a hotel closer to the Hauptbahnhof or the satellite Dresden-Mitte station.

The 19th Century district of Dresden Neustadt, across the river, is a tram ride or a long walk from the main sights, but it's worth considering if you like being close to nightlife, hip restaurants and shops, and the gay scene.
Unless you're stuck with a car, are on a tight budget, or plan an extended stay in Dresden, we'd recommend against booking a hotel in an outlying neighborhood or the suburbs. You may find lower rates outside the city center, but you'll waste time and money on commuting.

To plan your overnight stay in Dresden, see the Dresden hotel listings at Booking.com, our hotel partner. (Booking.com is the leading reservations service in Europe, with guaranteed lowest available rates, reviews by paying guests, and free cancellation in most cases.)
Hostels
The DJH Jugendherberge Dresden, a Hostelling International affiliate, is on Maternistrasse (between the Altstadt and the main railway station). It has 250 beds in rooms with private facilities and 230 beds in rooms with washbasins. Rooms have two to four beds each, and some are wheelchair-accessible.
The privately-owned Cityherberge is in Lingerallee, a couple of blocks east fom the Altmarkt. It offers three levels of accommodation--Basic, Standard, and Comfort--and the rates include a buffet breakfast.
Neustadt: Across the river in trendy Dresden Neustadt, the CVJM or YMCA's Jugendschiff has two- and three-bed cabins in a converted river vessel.
Other hostels in the district include Die Koje (another former ship), Hostel Mondpalast (in a "young and groovy bar-hopping area"), Hostel Louise 20, Kangaroo-Stop (a villa near the Dresden Neustadt railroad station), and Lollis Homestay.