Dresden
Travel and Tourist Information
From: Dresden, Germany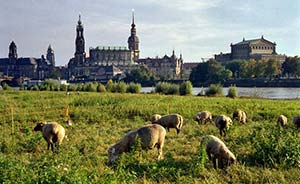 ABOVE: Sheep graze on the north bank of the Elbe with Dresden's Baroque Old Town as a backdrop. INSET BELOW: Workers assemble a VW Phaeton at Volkswagen's "Transparent Factory," and the Elbe waterfront at dusk.
By Durant Imboden

Dresden is one of Germany's most attractive cities, and it's a popular stop on the rail and Autobahn routes between Western Europe and Prague. The city is located just west of the border between Germany, Poland, and the Czech Republic, about 205 km or 128 miles south of Berlin.
The name "Dresden" tends to evoke three images in people who are new to the city:
Baroque architecture, thanks to the Wettin dynasty's taste for culture and unrestrained spending, especially during the 17th and 18th Centuries;

Porcelain, which was an obsession of Augustus the Strong, Elector of Saxony, who founded Europe's first white-porcelain factory in Dresden in 1710;

The fire bombing of Dresden in World War II, which killed an estimated 25,000 to 50,000 people and left much of the city in ruins.
Today, the porcelain factory is no longer in the city center (Augustus moved it to a castle in nearby Meissen), and few citizens of Dresden are old enough to remember the 1945 bombing raids. Most of the city's great Baroque architecture remains, however, thanks to reconstruction efforts during the Soviet occupation, the GDR era, and especially since German Reunification in 1990.

Dresden is again one of the loveliest cities in Germany. As a bonus, Dresden is a convenient gateway to the "Saxon Switzerland," the porcelain town of Meissen, the Erzegebirge or "Ore Mountains," the Saxon Wine Road, a large number of Saxon steam railways and railroad museums, and nearby cities such as Chemnitz and Leipzig. It's a great place to visit, and I'd recommend spending several days in Dresden--or even longer, if you have time.
Top photo copyright © DTW/Christoph Münch.
1st inset photo copyright © Volkswagen AG.
2nd inset photo copyright © Nikada.