Paddlewheel steamers depart from piers along the Terrassenufer, a stretch of Elbe riverbank next to the Altstadt.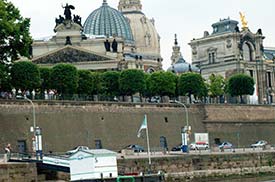 In August, 2002, the Elbe rose higher than the floodwall behind the riverboat quay, inundating much of Dresden and its suburbs during Europe's worst flooding in 150 years. (This photo was taken on a dry summer day six years later.)
---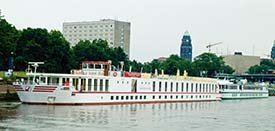 After casting off, our ship--the PD Diesbar--passed a pair of Elbe river cruisers that were moored just outside the Altstadt.
---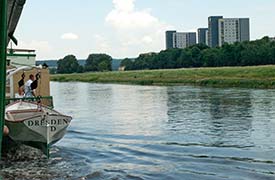 A few minutes later, we cruised past a row of skyscrapers from the GDR era.
Note the green riverbanks: Outside of Dresden's city center, much of the Elbe has a rural feel, with undeveloped parkland along its banks that locals use for walking, jogging, bicycling, picnicking, or playing with their dogs.
---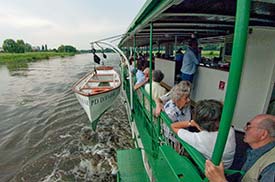 Soon, Dresden was behind us, and our 125-year-old steamboat cruised north on the uncrowded river.
---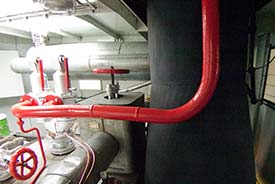 During the trip, I took a moment to admire pipes and a stack from the PD Diesbar's boiler, which generates steam for a two-stroke oscillating engine. The Diesbar is still fired by coal, with a human stoker shoveling 450 kg or nearly 1,000 pounds of coal into the boiler every hour during a cruise.
---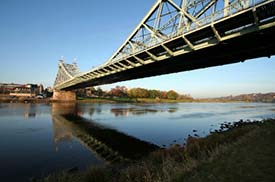 After passing beneath Das Blaue Wunder, one of Dresden's most famus bridges, our ship did a gentle U-turn and headed back to the city.
"The Blue Wonder" was built in 1893, and you can read more about it in the English-language Google Translate version of a German Wikipedia article, which will open in a new browser window. The article has a number of photos, including a picture of a Sächsische Dampfschiffahrt vessel cruising under the bridge.