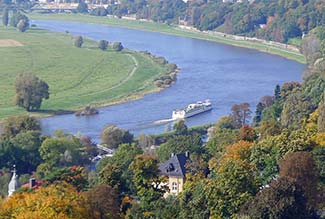 Pillnitz is on the Elbe River, in the southeastern suburbs of Dresden. (This photo was taken from the Schwebebahn Dresden, an historic monorail suspension railway between Dresden and Pillnitz.)
---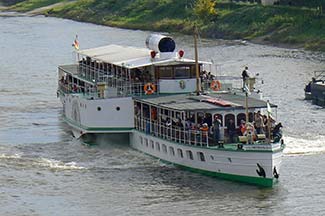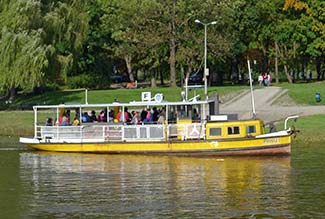 Two types of boat serve Pillnitz: Vintage paddlewheelers of the Sächsische Dampfschiffahrt or Saxon Steamboat Company, and the yellow-hulled Elbe ferries of Dresden's DVB transit company.
---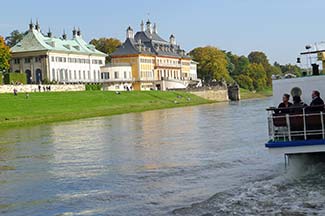 Arriving by boat (in this case, via paddlewheel steamer) offers a fine view of the Pillnitz estate.
---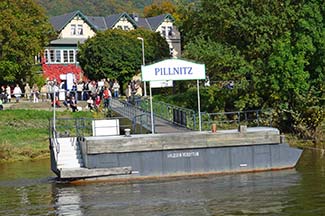 Your boat will arrive at a pier on the palace grounds.

---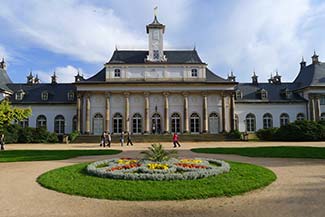 A short walk will bring you into the main quandrangle of the Pillnitz complex, where you'll see the Neues Palais . (The New Palace was built between 1818 and 1826, to replace the Old Palace that had burned down on May 1, 1818.)
---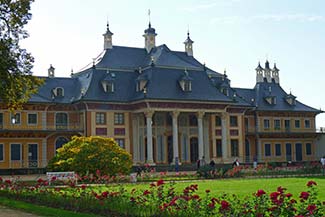 You'll also view the landward side of the Wasserpalais, or Water Palace, which you already saw from the Elbe if you arrived by boat. (See photo on page 1 of this article.)
---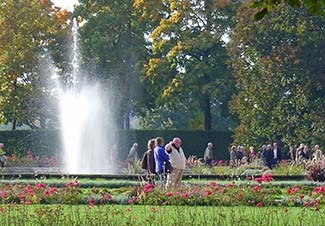 The central gardens of the Pillnitz are formal in design. The Pleasure Garden, for example, began as a Baroque garden under Augustus the Strong but was redesigned several times during the 19th Century.
---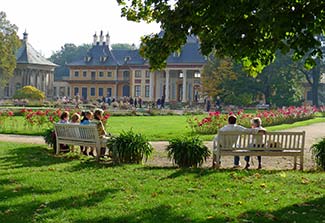 Park benches face the Pleasure Garden and the Neues Palais.
---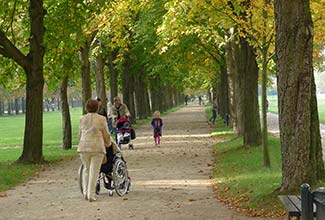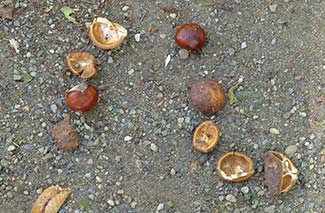 The Maillebahn was once used for playing pallamaglio (Italian for "paille-maille" or "pall-mall"), a now-defunct French and English game with a passing resemblance to croquet.
In 1965, the former pallamaglio alley was planted with rows of chestnut trees on both sides. When I visited Pillnitz in October, the local squirrels had been feasting on chestnuts, and shells were scattered along the path.
---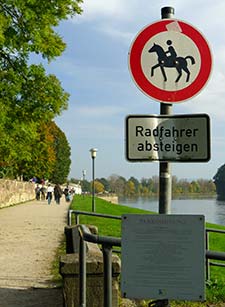 As I headed toward the boat landing, I saw these signs: one forbidding horseback riding, the other telling bicyclists to get off and push their bikes.
---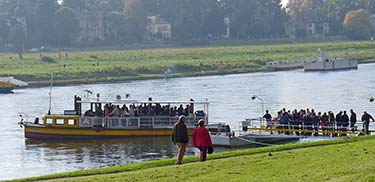 By late afternoon, many Pillnitz visitors were ready to return home.
---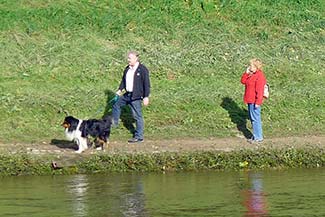 Other locals preferred to walk along the Elbe on foot with their dogs.
Back to: Pillnitz Palace & Park
---
---
---