This Trabant "Kombi" or station wagon is one of several models in the Trabi Safari fleet.
---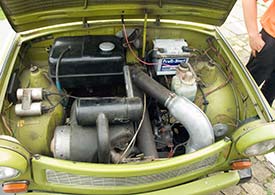 A look under the hood reveals the Trabant's tiny engine. (The hood and body panels are molded from Duroplast, a composite material made of plastic and recycled cotton waste.)
---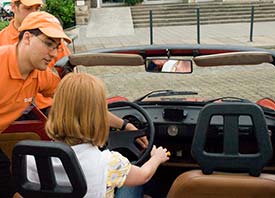 Trabi Safari employees give driving instructions to a tour participant who's behind the wheel of a Trabi convertible. (The young woman in the photo is from Dresden, and she remembers taking road trips as a child in the family Trabi.)
---

For more information about the Trabant, read Wikipedia's article about the car and its history.
To learn more about Trabi Safari tours, or to book online, visit www.trabi-safari.de.