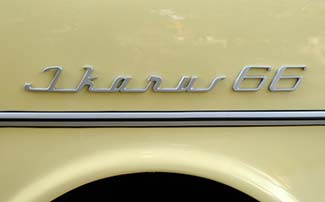 ABOVE: The association's flagship vehicle is an Ikarus 66, which was built in Budabest in 2972.
By Durant Imboden
We hardly ever write about organizations or businesses that cater to groups, but sometimes there's a good reason to make an exception. The Historische Kraftfahrzeuge des Dresdner Nahverkehrs, which loosely translates into "Dresden Vintage Transit Vehicles Association," is a case in point: The organization, which was founded in 2002, offers hourly rentals (with driver) of four vintage Dresden city buses that range from the Bussing NAG 900N (built in 1938, during the Nazi era) to the Ikarus 260.02 (which entered service in 1988, toward the end of East Germany's Communist regime).
During a Society of American Travel Writers convention in Dresden, I had a chance to ride on the Ikarus 66, which was built in Budapest, Hungary. The bus was built in 1972, but its styling is somewhere between the 1950s and a science-fiction movie. It's a truly odd-looking vehicle, but it catches the attention of passersby, has a comfortable interior, and is impeccably restored.
You and your family or friends can rent the Ikarus 66 or another bus from the Historische-KFZ-DDVB for a surprisingly reasonable hourly rate (two-hour minimum). As a bonus, your driver will be outfitted in a vintage uniform of the DVB, Dresden's public-transit system. If you want a running narrative of the sights as you drive around Dresden, we suggest hiring a licensed guide through Dresden Tourismus.
Below are photos of the Ikarus 66 from three different angles, plus an interior view. For more information about the Historische-KFZ-DDVB in English and its bus rentals, click here. (The buses and rates are listed on the Angebote or "Offers" page.)
---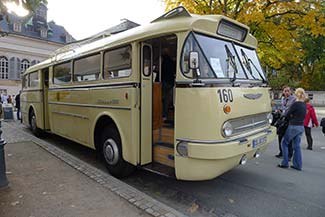 From the front, the Ikarus 66 doesn't look particularly exotic.
---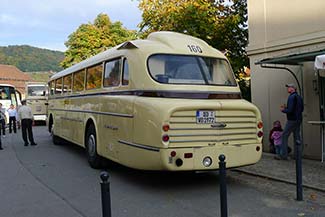 The rear view is a different story: A motorist approaching the bus from behind might panic at the sight of what looks like a windshield and grille.
---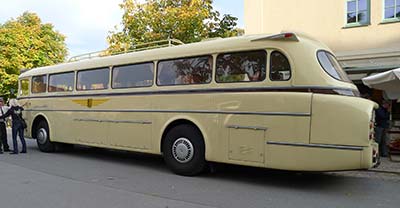 This wide-angle side view emphasizes the rocket-like tail of the Ikarus 66.
---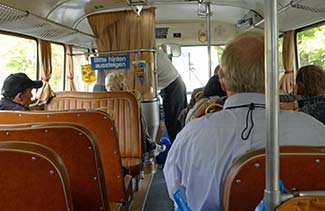 The interior of the Ikarus 66 is comfortable, with seating for 41 passengers. (The association also has restored vintage buses with 23, 26, and 28 seats for smaller groups.)
---
---