Photos
From: Garmisch-Partenkirchen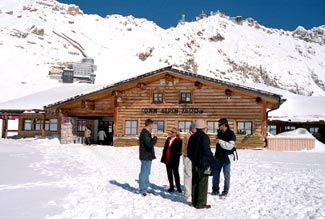 Zugspitze
The Sonn Alpin Restaurant is on the Zugspitzplatt (Zugspitze Glacier Plateau) near the upper station of the Bayerische Zugspitzbahn cogwheel railway. In the photo above, you can see the Schneefernerhaus environmental research station behind the restaurant and the summit ridge of the Zugspitze in the upper right center. The Gletcherbahn cable car leads from a station behind the restaurant to the top.
The Sonn Alpin's self-service restaurant has excellent food at reasonable prices. In good weather, you can eat or drink on the outdoor sun terrace.
Ski slopes and lifts are to the left of the photo, on the Zugspitze Glacier.
For more information on the Sonn Alpin and other places to eat or drink on the mountain, see our Zugspitze Restaurants page.
---
---