Erfurt Photos
From: Erfurt, Germany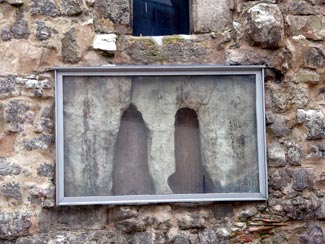 Erfurt Innenstadt
Traces of an old synagogue were found beneath the wall surface of this Erfurt building.
Erfurt had a large Jewish community in the 13th and 14th Centuries, but the pogrom of 1349 and the outright banning of Jews 1458 took their toll. A few Jews returned to the city in the late 1700s, and the first Jewish resident to be awarded full citizenship was Soloman Mayer in 1810. A new synagogue was built in 1840, and a larger synagogue was erected in 1952. (The latter was the only new synagogue built in East Germany during the GDR era).
Update: After this photo was taken, the Old Synagogue Erfurt was fully uncovered, restored, and reopened as a museum. It's worth seeing both as an historic building and for the treasures (including a priceless Jewish marriage ring) that are on display.
---
---
---