ABOVE: The Partnachklamm is a whitewater experience that you can enjoy without piloting a kayak. INSET BELOW: A well-maintained path with tunnels leads visitors through the gorge.
The Partnach Gorge, or Partnachklamm, is a "don't miss" attraction on any visit to the Bavarian alpine resort of Garmisch-Partenkirchen. The gorge, which acts as a natural conduit for the Partnach River, runs 700 meters or 2,305 feet between limestone walls that reach 80 meters (262 feet) high.
A series of galleries and tunnels has been carved out of the rock along one side, allowing visitors to walk along the rushing river and duck behind waterfalls.
The Partnachklamm is open year-round except for a short time in the spring when melting snow makes the route impassable.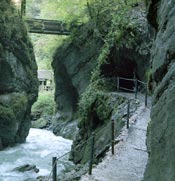 When to visit:
Summer. In July and August, the Partnachklamm offers a refreshing break from summer heat. If you're ambitious and in good shape, you can continue on for another eight or nine hours to the glacier near the top of the Zugspitze, Germany's highest mountain.
Winter. In the cold months, the Partnach Gorge is a magical place of ice and snow formations. It's open daily from 9 a.m. to 6 p.m. from November to April, so dress warmly, wear your winter boots, and stay away from the edge of the path when it's icy.
How to reach the Partnachklamm:
Walk, drive, or take local bus 1 or 2 from central Garmisch or Partenkirchen to the Skistadion or Olympic Ski Stadium.
From the Skistadion, follow the signs for the 30-minute walk into the Partnach Gorge. Transportation by horsedrawn carriage is available for a modest fee. You'll also find a refreshment stand near the gorge entrance.
Opening times:
The Partnachklamm is open 7 days a week except during the spring snow melt. For more information, visit www.partnachklamm.de.