Lübeck Photos
From: Lübeck, Germany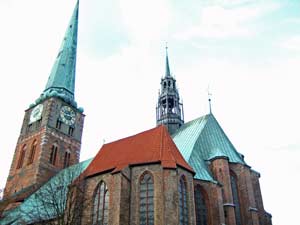 Jakobikirche
The Church of St. Jacobi was consecrated in 1334 and is Lübeck's church for seafarers. In a chapel beneath the north tower, you can see a wooden lifeboat from the Pamir, a five-masted sailing ship from Lübeck that sank in the Atlantic Ocean during a training voyage on September 21, 1957.
The Jacobikirche was unscathed by the Palm Sunday bombing in 1942, so every brick and stone in the building is original.
The church's Stellwagen organ was built in the 1600s, using 15th Century pipes. It's one of two organs that are used for frequent concerts throughout the year.
---
---
---
---