Europe > Germany > Luther cities
Luther Cities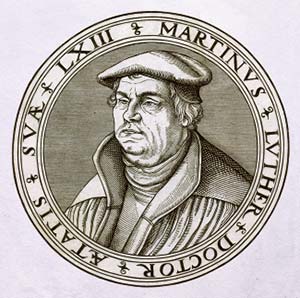 ABOVE: An engraving of Martin Luther at age 63, based on a woodcut by Lucas Cranach the Elder. INSET BELOW: 2017 will be the 500th anniversary of the Reformation.
Martin Luther is one of Germany's great historic figures, and a number of cities have ties to the Reformer. Three are featured in the Germany section of Europeforvisitors.com:
Eisenach is where Luther studied Latin from the ages of 15 to 18. Later, after being declared an outlaw and a heretic at the Diet of Worms, he hid out in Eisenach's Wartburg Castle, where he translated the New Testament into German. (A museum, the Lutherhaus Eisenach, now occupies the house where Luther boarded with a family for three years.)

Erfurt is where Luther took his vows as a Roman Catholic monk in 1505. (Tourists can sleep in the Augustinian Monastery where Luther lived until he entered the priesthood and began teaching in Wittenberg.)

Lutherstadt Wittenberg is where Martin Luther started the Reformation by nailing his "95 Theses" to the door of the Schlosskirche. Luther was a university professor in Wittenberg for much of his adult life, and the town is filled with churches, museums, and other sites that are associated with Luther and the Reformation.
For more information about Luther tourism in Germany, see: