Eisenach
Thuringia, Germany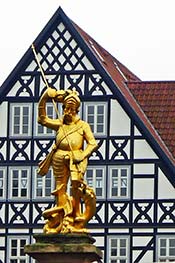 ABOVE: St. George, the patron saint of Eisenach, is honored with a gilded statue on a fountain in the Markt that dates back to 1549.
By Durant Imboden
Eisenach, Germany is an important Luther city for several reasons:
Martin Luther attended Latin school in Eisenach for three years, starting at age 15.

After being declared a heretic and outlaw in 1521, Luther hid out in Eisenach's Wartburg Castle for 300 days (during which time he translated the New Testament into German and produced a stack of religious writings).

The Lutherhaus Eisenach, where Luther lived as a boarder for three years, has been open to the public since the late 19th Century. (It's now a museum.)
Still, Martin Luther isn't the only historical figure whose name brings tourists and pilgrims to Eisenach. The city was also the birthplace of Johann Sebastian Bach, and the Bachhaus Eisenach is a "must see" museum for anyone who appreciates the great composer's works.
---
Eisenach today:

Eisenach is an attractive small city of 43,000 inhabitants with a well-preserved Old Town, a hugely popular Sommergewinn festival before Easter, a medieval-themed Luther Festival in August (finances permitting), and plenty of sightseeing opportunities to keep visitors occupied at any time of year.
Eisenach is also the gateway to the Wartburg region of Thuringia and is on the Rennsteig, a hiking and bicycle trail that dates back to the 9th Century.
---
How long to visit:
We recommend spending at least two nights in Eisenach, which will give you time to walk around the center and visit some of the most popular local attractions: the Georgenkirche (where the Bach family were organists), Wartburg Castle, the Luther House, and the Bach House.
If you can stay three nights or longer, you'll get even more out of your visit.
---
What to see: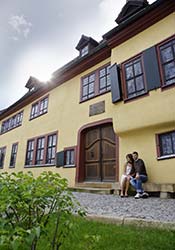 ABOVE: The Bach House is a museum with the world's largest collection of exhibits about the life and music of Johann Sebastian Bach.

Eisenach's signature attraction is Wartburg Castle (see article and photo gallery), which is on a forested peak overlooking the city. The castle is one of Germany's oldest (it was founded in 1067 AD) and is a UNESCO World Heritage Site.

Within the town center, the Georgenkirche, or St. George's Church, is worth a visit. (Admission is free.) The Bach family were organists at the Georgenkirche, and Johann Sebastian Bach was baptized in the church.
The Luther House (see article) and Bach House (see article) are popular with history buffs, religious pilgrims, and music fans.
Both museums are centrally located--as is the Thuringian Museum's Collection of Modern Art in Thuringia, which occupies the former Predigerkirche.

Other local museums include Eisenach Automobile World (which celebrates Eisenach's long history of car manufacturing) and the Reuter Wagner Museum on the way to Wartburg Castle (see inset photo), which is the second most important Richard Wagner museum after Bayreuth.

Be sure to allow time for simply walking around the Old Town, which has many historic buildings and monuments.
A small pedestrian shopping zone connects with the Markt, where you'll find the Town Hall, the tourist office in the City Palace, the Georgenkirche, and market stalls where you can buy food, flowers, and other items on weekdays and Saturdays.)
---
Hotels: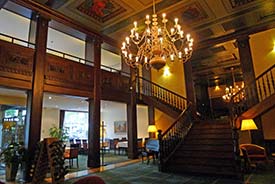 ABOVE: The paneled lobby of the Steigenberger Hotel Thüringer Hof, where Leo Tolstoy stayed in 1857.

I've stayed in only one Eisenach hotel, the Vienna House Thüringer Hof (which is conveniently located next to the Luther Monument on Karlsplatz, within easy walking distance of both the Markt and the railroad station).
The Thüringer Hof is a comfortable four-star hotel with a long history, and it's popular with German business and leisure travelers.
For more information, see my illustrated Vienna House Thüringer Hof review.
Other mid- to upper-range hotels include the Hotel am Markt, the Ringhotel Eisenacher Hof with its Lutherstuben medieval restaurant (see below), the Hotel Kaiserhof Eisenach, and the Romantik Hotel auf der Wartburg at Wartburg Castle, which is on a forested hilltop outside of town.
Lower down the price scale, the City Hotel offers good value, with 22 rooms and apartments for one to four persons and a location near the train station.
The Youth Hostel Eisenach is even cheaper, with rooms that range from twins to six-bedded mini-dorms. (It's at the southern edge of town, at the foot of the Wartburg.)
For more places to stay, consult Booking.com: Eisenach, which lists hotels, guesthouses, vacation apartments, and other accommodation at competitive rates. (Booking.com isn't just our hotel partner--it's also the leading secure reservations site in Europe.)
---
Restaurants: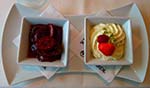 In Germany, hotels often have some of the better kitchens in town, and the Vienna House Thüringer Hof more than met my expectations when I lunched and later dined in its restaurant.

I also had fun (and a hearty traditional meal) in the Lutherstuben of the Ringhotel Eisenacher Hof, where the decor and menu are have a 16th Century Martin Luther theme.
I haven't dined in the Gewölberestaurant Brunnenkeller, but the restaurant's vaulted cellars and terrace on the Markt sound appealing, and the kitchen has won awards for its reasonably-priced German cuisine.
Finally, no trip to Germany is complete without at least one visit to a Döner Kebab shop.
---
Tourist office: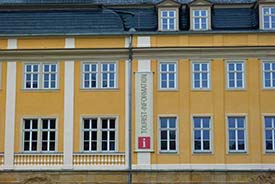 ABOVE: Eisenach's Tourist Information office is on the Markt.

Eisenach's Tourist Information office is easy to find: It's in the yellow Stadtschloss or City Palace on the Markt (see photo above), in the center of town.
The office is open Monday to Friday from 10 a.m. to 6 p.m., and on Saturdays and Sundays from 10 a.m. to 5 p.m. It has a comprehensive Web site at www.eisenach.info, with information in German and English.
For information on travel throughout the state of Thüringen (Thuringia), see the multilingual Thuringia Tourism Web site.
---
Getting to Eisenach:

By train. Eisenach is on the main rail line between Frankfurt and Erfurt, with frequent Deutsche Bahn service on InterCity Express (ICE) or InterRegio trains from Frankfurt, Berlin, Kassel, Weimar, and other cities. Eisenach's Hauptbahnhof, or main railroad station, is within walking distance of the town center.
By car. Eisenach is easy to reach by motorway: It's on the A4 Autobahn, which runs between Dresden and major highway routes from northern, southern, and western German cities. For road directions, use ViaMichelin's interactive journey planner.

By air. The closest airport is in Erfurt, about 60 km or 38 miles away. If you're coming from outside Germany, you'll probably find it easiest to use a major gateway like Frankfurt or Berlin.
(From Frankfurt International Airport, a fast ICE or IC train will get you to Eisenach in less than two hours.)
---
Local transportation:
For more transportation options, see the local transit agency's Wartburgmobil Web site.
---
More Eisenach photos: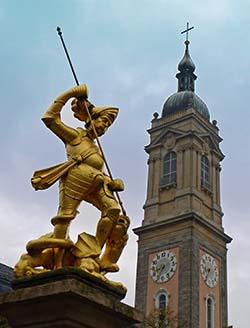 St. George and Georgenkirche
St. George, the patron saint of Eisenach, subdues a dragon with the tower of the Georgenkirche (St. George's Church) behind him.
---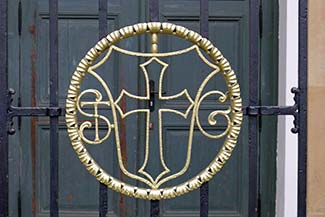 Georgenkirche
The wrought-iron gates of the Georgenkirche are decorated with several coats of arms, including the emblem of St. George.
---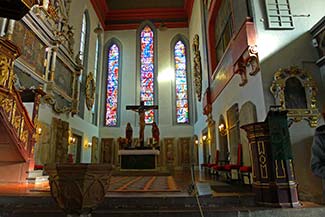 Georgenkirche
The Georgenkirche is the cathedral for the Evangelisch (Lutheran) diocese of Thuringia.
Martin Luther sang in the choir during his three years at a Latin student in Eisenach, and Johann Sebastian Bach was baptized in the church in 1685.
---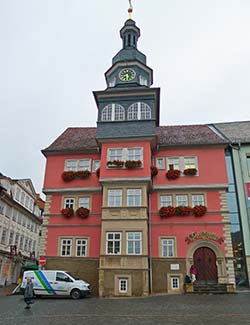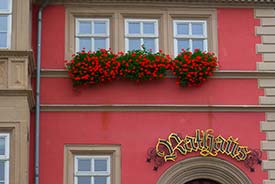 Rathaus
A few meters away from Eisenach's Georgenkirche is the Rathaus, or Town Hall, which dates back to 1509.
The Late Gothic building was updated with a Renaissance facade in 1564, rebuilt in 1636 after a fire, given a clock tower and cupola in 1638, and restored again following bomb damage in World War II.
---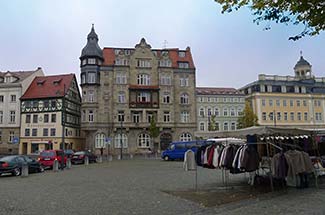 Markt
The Rathaus is one of many historic buildings that face the Markt, or market square, in Eisenach.
---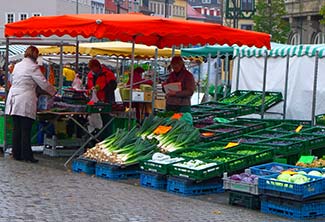 Markt
From Monday through Saturday, a public market takes place on the Markt in Eisenach from early morning until late afternoon.
Vendors sell fruit, vegetables, meats, flowers, clothing, and other items. This is a real working market, not just a tourist attraction, and most of the customer are locals.
---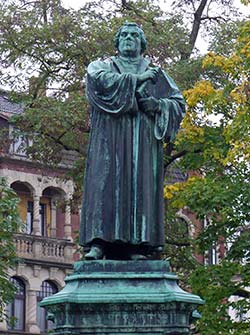 Luther Memorial (Lutherdenkmal)
Martin Luther may be dead, but his likeness stands atop a pedestal in the Karlsplatz.
---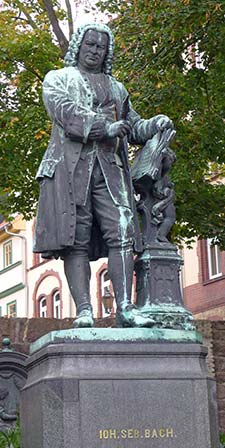 Bach Memorial (Bachdenkmal)
Johann Sebastian Bach has his own statue in Eisenach: The Bachdenkmal, which is next door to the Bachhaus Eisenach museum on the Frauenplan.
The bronze statue was designed by Adolf von Donndorf in 1885. It originally stood outside the Georgenkirche but was moved to its current location in 1938.
Bach was a local boy, having been born on March 31, 1685 to a family of professional instrumentalists, composers, and conductors. His father, Johann Ambrosius Bach, was director of the Stadtpfeifer or Town Pipers, the musicians' guild in Eisenach.
---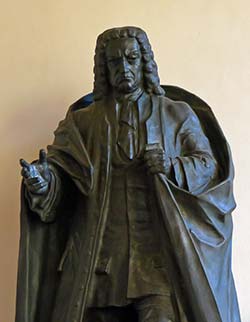 Johann Sebastian Bach Statue
Eisenach has not just one, but two Bach statues. The stern-looking version in this photo is inside the entrance of the Georgenkirche.
---
---
---